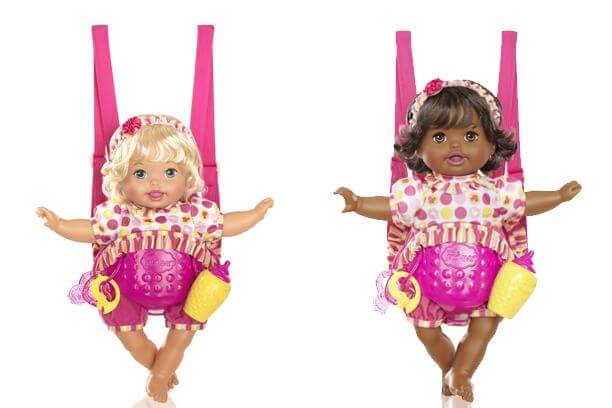 Get the Mattel Little Mommy Laugh & Love Baby Doll for only $24.99 (reg. $50) shipped. Compare this to the current Amazon price on the Little Mommy Laugh & Love dolls.
Bring a smile to your daughter's face with this adorable Mattel Little Mommy doll. Its interactive design comes to life with its realistic movements and phrases and  allows your child to feed, change, and nurture it, making for hours of endless fun.
Features:
Caring, Nurturing Playtime for Your Daughter – Today's little mommy is always on the go — but never wants to leave her baby behind! Laugh & Love Baby doll now comes with everything your daughter needs, including a convenient carrier and accessories, so she can take her wee one on exciting adventures. Plus, this precious doll features interactive movements and sounds to provide the ultimate in realistic role-play!
So Many Ways to Play With This Adorable Doll – Girls can bring the baby doll to life when they play with her, feed her, change her, and more. Carry her around in her pink carrier, which features straps for girls to wear or use as a swing. Hook baby's bottle, pacifier, or teething ring to the seat for easy portability — just like real mommies do! Plus, this cutie wears an outfit as sweet as her personality. She pairs a colorful, polka-dot dress with a matching ruffled headband.
Feeding Time, Nap Time, and Changing Time – When it's mealtime, baby can eat from the jar of carrots with the "magic feeding spoon" and drink from the bottle. Rock her to sleep when she gets tired — then simply tickle her feet or squeeze her hand to wake her up and activate the play. Girls can also change baby when she's "dirty" by using the included powder, wipes, and clean diaper.
Realistic Sounds and Movements – Laugh & Love Baby doll moves and sounds just like a real baby! She makes appropriate sucking noises when given her pacifier or bottle and can be burped with a pat of the button on her back. Tickle her toes to make her giggle and bounce in the carrier. Squeeze her hand, and she responds with arm, neck, and leg motions. Plus, she speaks more than 50 interactive phrases and makes additional sounds, such as hiccups and cooing. Irresistible!
Interactive doll features realistic movements and sounds and speaks over 50 phrases
Responds when you tickle her toes and squeeze her hand
Includes baby carrier for on-the-go play and easy storage
Also comes with accessories for role-play activities
Doll wears a cute, colorful dress and matching headband
Lots of nurturing fun for every little mommy!
Ages 3 & up
3 AA Batteries required (included)
Caucasian or African American dolls available
Get your Mattel Little Mommy Laugh & Love Baby Doll here as this sale is good 12/3 only.