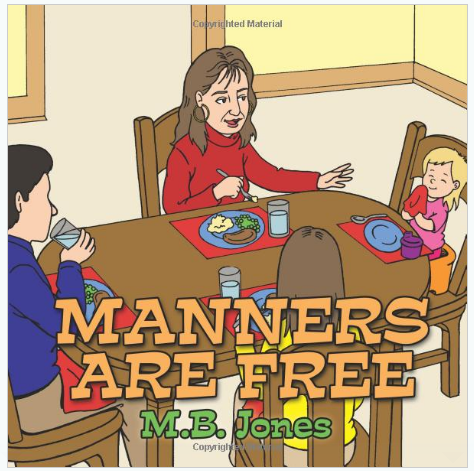 Manners Are Free was written by first time author and first time Grandmother. M.B. Jones. She decided there was no better way to teach her granddaughter manners than to write a book about them.
Manners are very important throughout life, and they seem to have fallen by the wayside. It's never too early to teach children manners, and what better way than to read them a book that is fun and also begins the process of teaching them basic manners.
Full of rhymes and repetitive sayings, this book is great for all who are trying to reinforce the importance of manners in the home. The story is about a Nana who comes to visit her granddaughter and uses every opportunity she can to teach her grandchild that, "Manners are Free".
This colorful book teaches manners that should be used on a daily basis – saying please and thank you and excuse me,  chewing with our mouths closed, and being kind to others.
My kids loved this book and were quick to catch on to the "Manners Are Free" repeated at the end of each page. They also enjoyed the pictures and were easily able to relate to the real life situations the author wrote about.
Looking to teach your kids more about manners? Head over here to purchase your own copy of Manners Are Free.
I received a copy of Manners Are Free for my review. All opinions are my own.