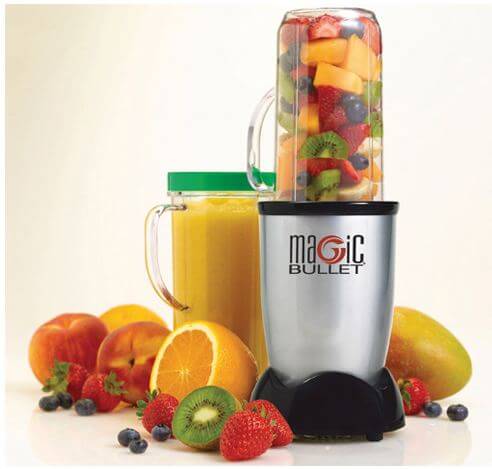 This Magic Bullet 25-Piece Set is on sale today for only $49.99 (reg. $99.99). Shipping is free. Check out the current Magic Bullet price on Amazon, which is considerably more than this sale price.
Magic Bullet's 25-piece set includes everything you need to create, serve, and store your favorite drinks and recipes! The high-torque power base allows you to blend everything in less than 10 seconds, with no mess or fuss.
There are no complicated buttons to press, or complicated manuals to read. Just place one of the Magic Bullet cups on to the power base and press down. Make snacks, sandwich spreads, smoothies, frozen coffee, salsas, soups, salads, baby food, and anything else your mind can dream of! The Magic Bullet can handle it all with ease and efficiency.
The tall and short microwave-safe cups allow you to mix, cook, and store ingredients. Three party mugs and two Bullet-On-The-Go mugs allow you to make and serve frozen party drinks right in the same mug. With steamer, shaker, storage, and flip-top lids, this set is quite versatile.
Features Include:
Chop, mix, blend, whip, and grind in less than 10 seconds
Grate cheese, make pasta sauces, smoothies, batters, and more
High-torque power base.
Microwave-safe
Blend and serve drinks in the same mug-colored tops help you keep track
Stainless steel blades
1 Magic Bullet high-torque power base
1 tall cup
1 short cup
3-pc small pitcher/blender
2 stainless steel flat blades (cross blade & flat blade)
2 stay fresh re-sealable lids
2 shaker/steamer tops
2 Bullet-On-The-Go 22 oz mugs
2 flip top lids
3 party mugs
5 colored lip rings
1 recipe book
Get your Magic Bullet here while it is at this sale price. This offer is good 8/27 only.