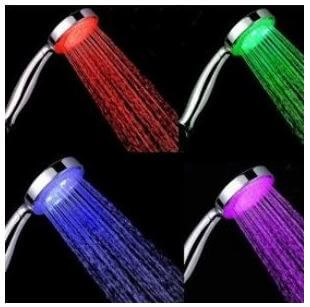 Are you looking for something unique and different? This LED Lighted Shower Head may be just the thing. Pay only $9.11 (reg. price $69.99) for the 7 color LED lighted shower head. Shipping is free.
Product features:
Special design high quality LED faucet with three beautiful colors.
No Battery and electronic connection needed and the light only works while the faucet is open
LED colour turns every 3~5 seconds.
Product Dimension: 21.7 x 4.0 x 9.7cm. Material: ABS. Finish: Zinc Alloy. Shipping Weight: 0.35 kg.
Package: 1 x 7 Color LED Shower Head.
I find it fascinating that there are no batteries required but rather that the lights work when the water is turned on. Pretty cool, huh?
Shower wand was easy to install, has great color led bright lights.
I bought this for my boyfriend for Christmas and he LOVED it! 
Very surprised with the water output. The lights are bright and hydropowered, so you don't need batteries. 
Get your own LED Lighted Shower Head here. Please double check the price before purchasing, as prices can change quickly on Amazon.