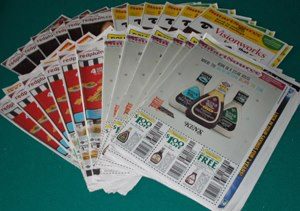 Since we are not going to be getting any coupon inserts in this weekends paper, I am posting this deal for all of you who would like to add some more coupons to your stash.
Here is a Labor Day Special of coupon inserts. You will receive:
August 12
(6) Smartsource
(6) Red Plum
August 19
(6) Smartsource
(6) Red Plum
There were some very *HOT* coupons in these inserts including $0.50/1 Heinz Ketchup, $1/1 Lunchable with Smoothie, Free Good N Natural Bar, $2.00/1 Wisk, $4.00/1 Gillette Proglide, $4.00/1 Venus and many more!
Pay only $19.99 for this Labor Day Special of 12 coupon inserts and also receive a $5 credit to Wiz Clipz. With the credit you can score at least 30 pre-clipped coupons for FREE!  
What are you waiting for? Hurry, over and get your order placed so you can start saving money with these great coupons.