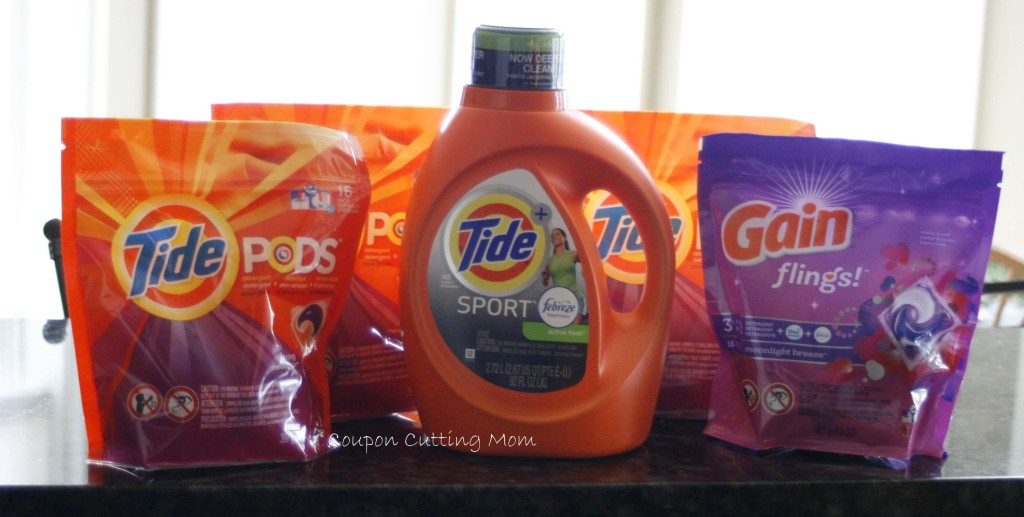 Kmart is doubling manufactures coupons this week. Any coupon for $2 or less will double with your $25 purchase. Limit 5 double coupons per customer, per day. I love having a $2 coupon double to $4 as this makes for some really great savings. The items in the picture above have a shelf price of $39.25 but after sales, coupons, and a Catalina I paid only $0.99 total!
Here is how you can score the same amazing Tide deal at Kmart: (through 12/6)
Buy 1 Tide Liquid Detergent 92 – 100 oz. $12.99
Buy 4 Tide Pods 16 ct. $4.50 each (I substituted a Gain Flings as there were only 3 Tide PODS on the shelf at my store)
Use $2/1 Tide Detergent coupon from the 11/30 PG (will double to $4)
Use 4 $2/1 Tide Pods or Gain Flings coupon from the 11/16 RP (will double to $4 each)
Pay $10.99
Receive a $10 Catalina for spending $30 or more on P&G items (to be used 12/7 – 12/14)
Final price $0.20 each!
The Tide Pods in this transaction count towards the Tide SavingStar offer. If you have not already redeemed this offer, you could go back to Kmart a second day and repeat the above transaction and earn $10 from SavingStar which would make your Tide purchase a moneymaker of $8.02!!