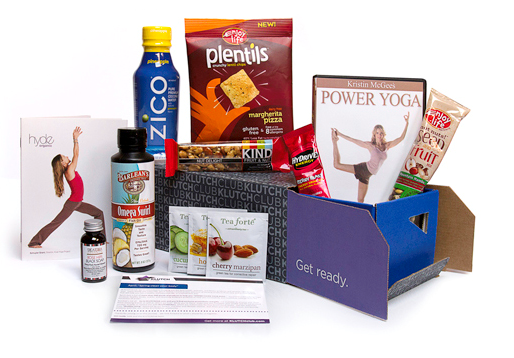 I was excited when I received an email the other week asking if I wanted to review a box full of health and wellness products.
Shortly after that I received a Klutch Box in the mail filled with over $60 worth of products to aid in body spring cleaning. I was surprised at how many items were included. Here is what I found in the box:
A detoxifying Yoga workout from MTV Power Yoga star, Kristin McGee
A brand new energizing drink product to kick-start your workout
Post workout coconut water hydration to replenish electrolytes
Soothing teas with plant based anti-oxidants to improve your skin
A cleansing organic deep-pore facial wash
Organic omega 3, flax and fish oil supplements in new flavors
Satisfying healthy snacks and nutritious treats
A gift from an organic yoga clothing company
I think I was most impressed with the Rose Hip Black soap and the workout dvd. My kids loved all the little snacks. And my husband, well he loves all kinds of unique seeds so he loved the Not Nuts Seed and Fruit Mix.
KLUTCHclub is a subscribe service which delivers wellness related products to your doorstep every month. For only $18, you can sign up and receive a box of exciting products from new and trusted brands that will help you live a healthy and balanced life delivered to you every month.
If you are interested in learning more about KLUTCHclub head over here or check them out on their Facebook page. Use code BRIGHTPINK to receive 10% off your membership fee.
Disclaimer:  I received this box and everything in it from KLUTCHclub in exchange for this review. All opinions are my own.