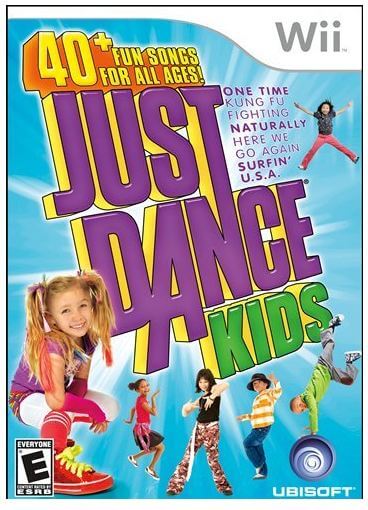 Amazon is offering the Just Dance Kids for only $14.88 (reg. $19.99). This item qualifies for free shipping with Super Saver or Amazon Prime.
When it comes to hitting the dance floor, you've got the moves, you just need room to rock. Really let your expression shine as you turn your living room into a dance floor, let the moves flow and rock out to your favorite tunes in the first-ever Just Dance title designed just for kids. Whether you're moving like the thunder in "Naturally" or going on safari in "Surfin' USA," there's only one thing you have to do to have a blast — Just Dance.
With more than 40 hit pop and hip-hop songs re-recorded by kids, for kids, plus TV-show favorites for little brothers and sisters, Just Dance Kids has the beats to get everyone moving. Bigger kids can dance till they drop in Dance Party mode for one nonstop stream of songs, shake it to the rhythm to earn bonus points in Freeze and Shake mode and team up with their friends to rock the dance floor together. For the younger crowd, beloved TV personalities like The Wiggles and Yo Gabba Gabba make getting into the groove as fun as tuning in to their favorite shows, and classic favorites like "Wheels on the Bus" let the tiniest tots enjoy the musical magic. As kids bust a move and party with their friends, parents can track how many calories they burn in this healthy game that never feels like exercise.
Features:
Delivers all of the fast-paced, music-packed fun of Just Dance with songs, moves and themes designed just for kids
Dance along to 40 fun sequences created by choreographers and led by other kids
Jump, shake and jive your way into favorite pop and hip-hop songs like "One Time," "Naturally," "Holiday," "Surfin' USA" and more, re-recorded by kids
Keep the party popping in a Dance Party mode that plays songs nonstop without sending you back to the start menu
Shake, shake, shake your Wii Remote or freeze in position to rack up the bonus points in Freeze and Shake mode
Fill the dance floor (or your living room floor) with all your friends in Team Play mode
Brings favorite TV personalities like The Wiggles and Yo Gabba Gabba into your living room for dancing fun for younger kids, and includes tot classics like "Wheels on the Bus" and "The Alphabet Song"
Progression tracking helps parents keep tabs on kids' exercise progress, including calories burned and time played, and offers a peek into kids' favorite songs
Provides a healthy workout that doesn't feel like work
Get your Just Dance Kids Wii game for only $14.88.