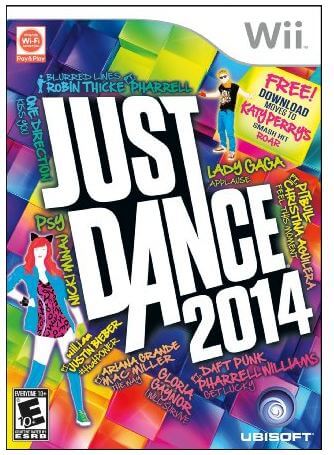 Just Dance 2014 is available for the Wii, Playstation 3 and Xbox 360 for only $25.00 (reg. $39.99).
Just Dance 2014 – the sequel to Just Dance 4, the world's #1 selling dance game – is bringing all new moves with breakthrough features for every motion-control platform and over 40 of the hottest tracks! Dance to current pop hits or celebrate with legendary classics – then take the fun to another level by playing with anyone anywhere in the world, leading back-up dancers, or creating customized Just Sweat experiences. Bring home the ultimate party starter and join in the fun!
Features:
World Dance Floor: Dance with anyone anywhere in the world in Just Dance's first-ever online multiplayer mode! Players join a virtual crew–made up of real-life friends or other Just Dance fans–and compete based on different themes.
On Stage Mode: Own the spotlight in this new mode where one player will dance, lead 2 back-up dancers, and even sing if they want! As the star of the show, the player can take it seriously and show off how talented they are, or just goof off with friends.
Custom Sweat Mode: Players can personalize their Just Sweat workouts by creating custom playlists and tracking calories. There's also a new option to track calories in all gameplay modes, even outside of the dedicated Just Sweat mode.
More Dances Per Track: Everyone loves variety! Find alternate choreography across all modes including Just Sweat, Extreme, Battle and Mash-Up.
Order your Just Dance 2014 here while it is at this low price. Please double check the price before purchasing, as prices can change quickly on Amazon. Amazon Prime members get free 2-day shipping.