I was provided with complimentary products to facilitate this post. Regardless, all opinions expressed are still 100% my own.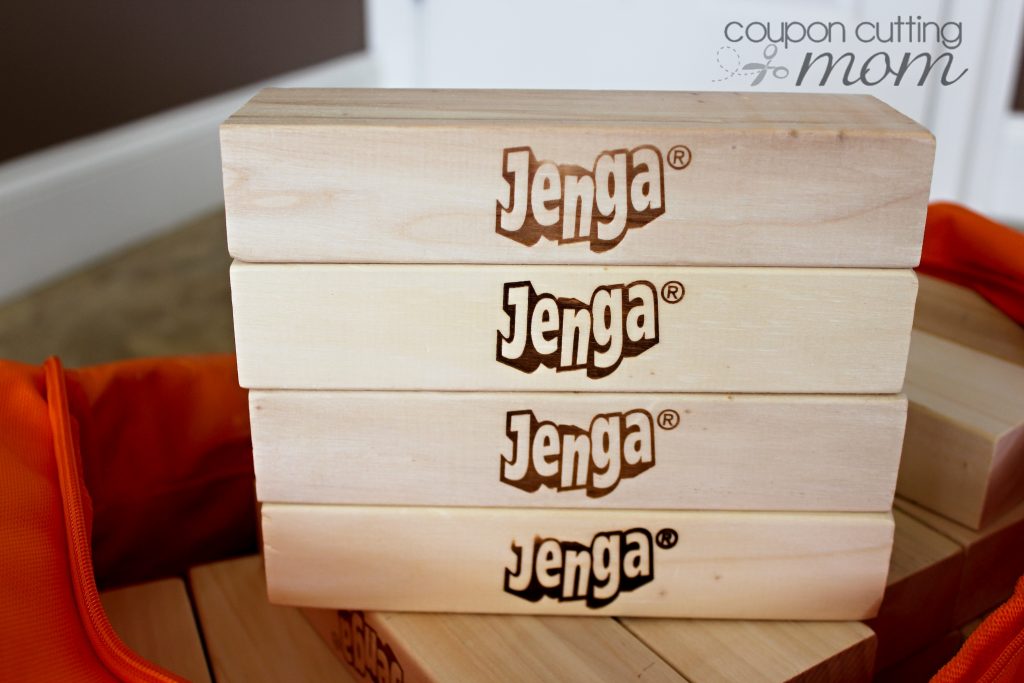 Fun Game Night With Jenga GIANT That Stacks Over 5′ High
While relaxing at the pool on vacation earlier this year, we saw some families playing Jenga poolside. This game wasn't your ordinary Jenga game they were playing though. Instead, this was giant Jenga blocks. We thoroughly enjoyed watching the competition, and I remember my husband and I mentioning how that looked like a fun family game. We came home and forgot all about this Jenga until recently when we were asked if wanted to give Jenga GIANT a try with our family. Of course, we said yes!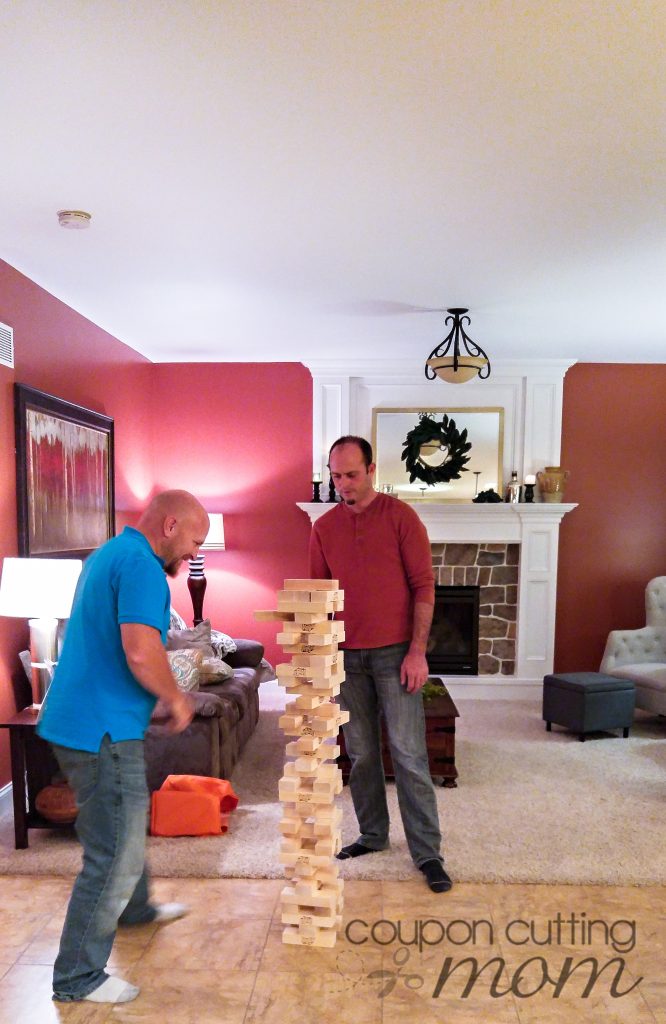 The Jenga GIANT is a fantastic indoor or outdoor game with 54 precision-crafted polished hardwood blocks. Each Jenga block in this set is over 14 times the volume of a Classic Jenga block! I really like that this game comes packed in a compact lightweight carrying bag which makes it perfect to take transport to any party, picnic, friends house, etc..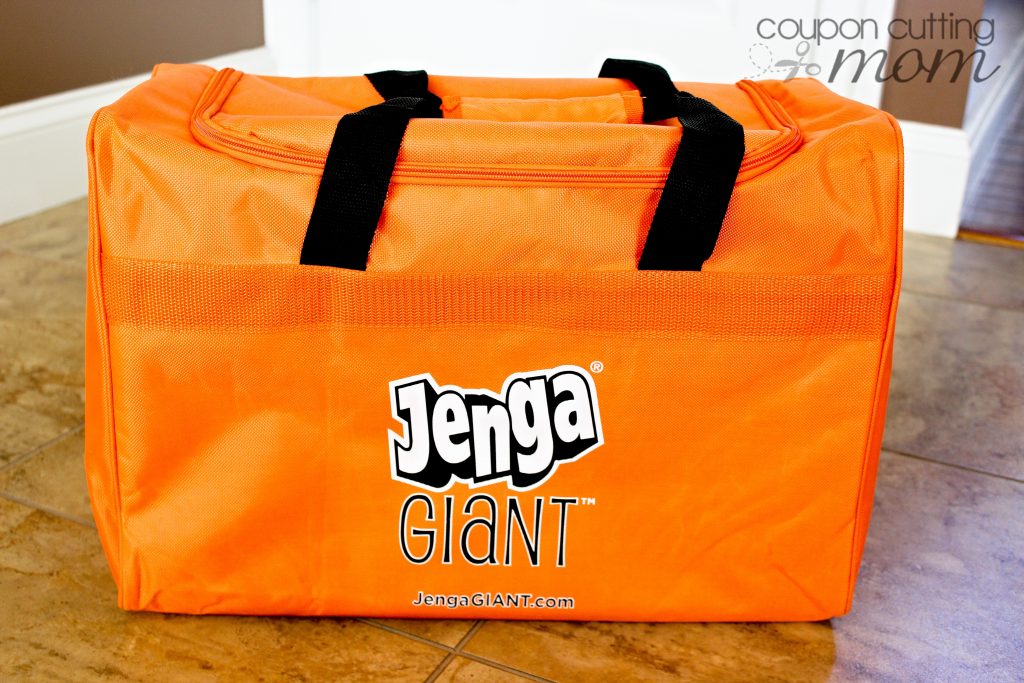 This Jenga GIANT is the largest authentic hardwood Jenga game weighing a total of 26 pounds. This game can stack over 5′ high in play! If you are not familiar with Jenga, it is very straightforward to learn. You start out by building a tower of the blocks. Players must take turns taking one block out of any level but the top and placing it on the top being sure to stack neatly, so the tower stays strong. The trick is to look for the block that is the easiest to move, that is the loosest or that will least disturb the stability of the tower. To keep players from holding the tower steady while they are pulling blocks, there is a rule that the player may only touch the tower with one hand at a time. You want to stack the blocks as neatly as possible, so the tower stays strong and standing. As the game progresses, the tower grows taller and higher until it finally becomes unstable and falls. The "loser" of the game is the person who toppled the tower. The fun starts all over again when you reset the Jenga blocks up for play.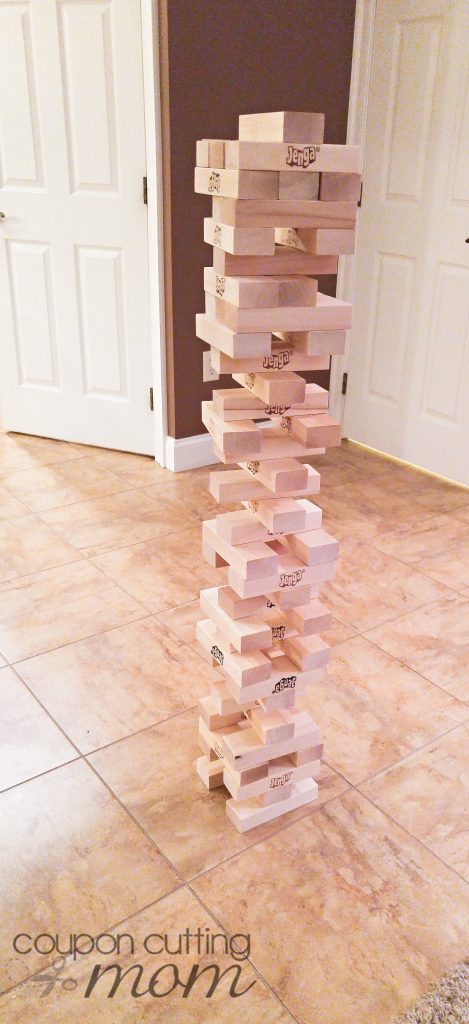 My family and I have been having great fun indoors with this game and have played it when friends were over, brought it along to holiday gatherings and more. We are excited to use this Jenga out of doors too at the park, picnics and more once the weather warms up again. Just a word of caution – these blocks are heavy, and it does fall over so be sure to keep smaller kids away from the tower while the game is in play.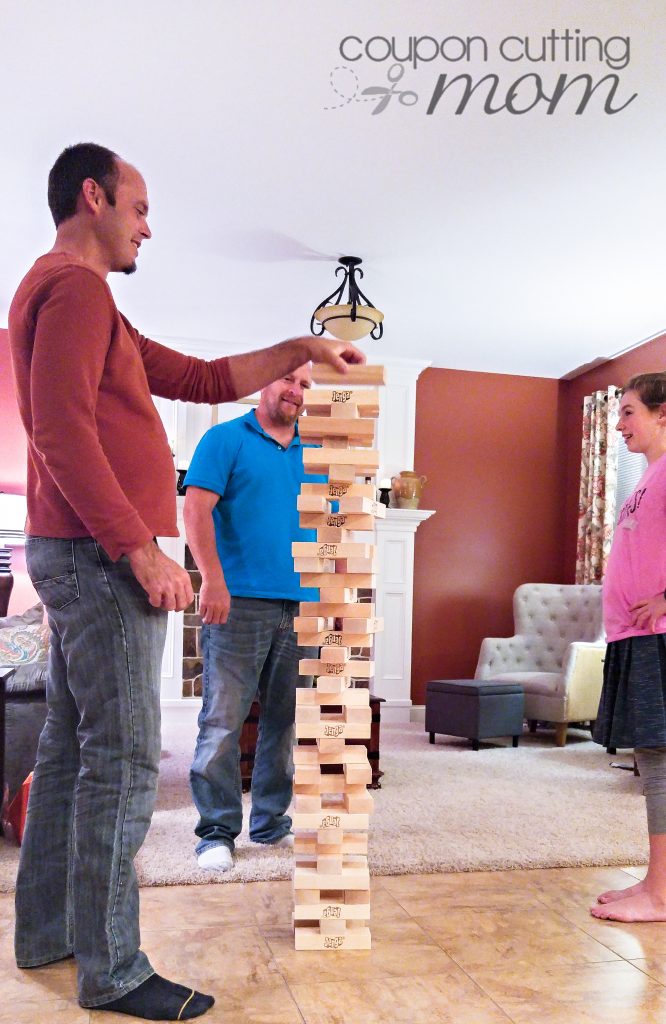 We are finding that the kids are using these wooden Jenga GIANT blocks for imaginative play. My niece and nephew used this blocks one day to make a road and were driving their play cars and tractors on them. My kids have had fun building all kinds of structures too with these blocks. So even when the game is not in play, it creates good old fashion fun for the kids.
Jenga GIANT would be a fun game to play at all your holiday parties. It would also make the perfect gift for all the game players on your Christmas list.
BUY IT: Jenga GIANT can be purchased on the Jenga site or on Amazon.