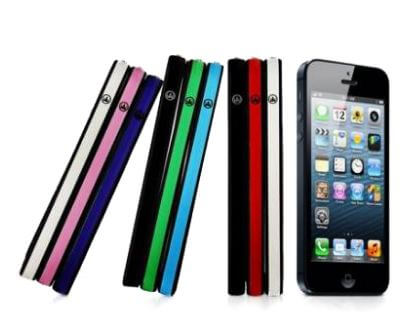 Get these iPhone 5 Crown Bumper Three Pack for only $14.99 (reg. price $89.99). Shipping is free!
Get yourself a handy three pack of these Throne iPhone 5 Crown bumpers to keep your indispensable but fragile iPhone 5 protected and stylish.
Built to protect your phone from costly cracks and scratches, these three-packs of bumpers come in three different color assortments to fit your unique style. With three bumpers, you'll have enough to keep the whole family's iPhones protected, or extras for when you're feeling like switching up your look.
Available in three different three-packs: white, pink, and purple; black, green, and blue; black, red, and white.
Two-Tone case specifically for the iPhone 5
Provides protection on all sides of your phone
Keep the look of your sleek iPhone 5 while protecting it at all times
Fun and unique way to personalize your iPhone 5
Get your iPhone 5 Crown Bumper Three Pack here. This sale is good 5/30 only.