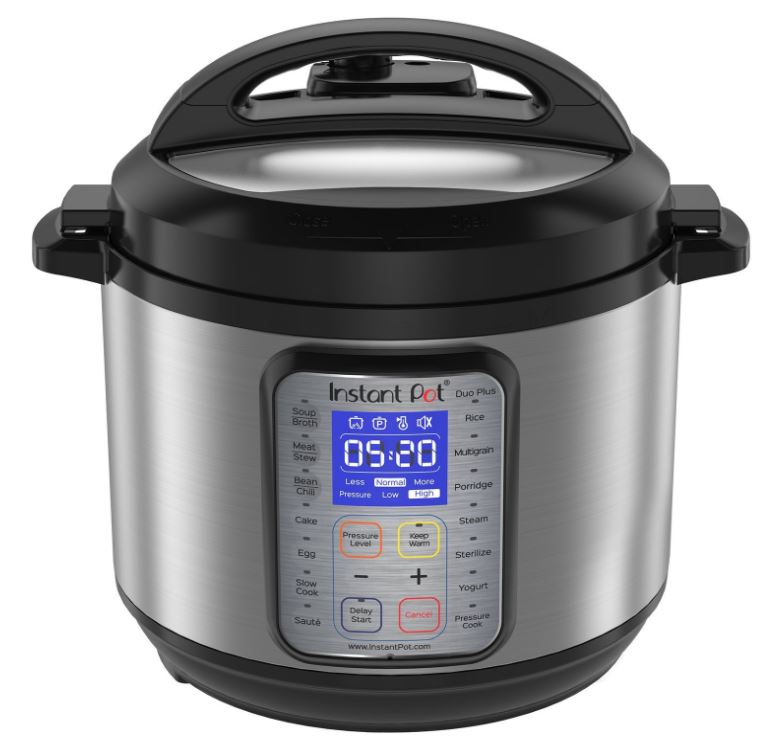 Instant Pot Multi-Functional Pressure Cooker ONLY $74.95 (Reg. Price $119.95)
Here is your chance to score a FANTASTIC deal on the Instant Pot 9-in-1 Multi-Functional Pressure Cooker. I bought an Instant Pot last Black Friday and throughout the summer I used my pot to cook numerous fresh veggies. Like green beans, corn on the cob, red beets, etc. My favorite part of this pot is the that you put whatever you are making into it and walk away. There isn't the constant checking of things like when you cook on the stovetop. 
Instant Pot Duo Plus is the next evolution in the Duo Series, the #1 best-selling cooker in the Instant Pot family. The Duo Plus 9-in-1 Programmable kitchen appliance with advanced microprocessor technology incorporates all of the great features that made the Duo the #1 best-seller. It has new and improved programs and features to continually support one's fast-paced, health-conscious and lifestyle. The Duo Plus includes 3 new programs, Cake, Egg, and Sterilize. The Cake program has been designed to pressure cook soft and moist cakes; whereas, the Egg program has been created to prepare perfect eggs in just a few minutes. With the Sterilize program one can pasteurize milk, and sterilize baby bottles, jars, and utensils; as well as, perform certain types of canning much more conveniently than ever before!
The Duo Plus is designed with a large blue LCD display with a new user interface to adjust the cooking settings, pressure levels, keep-warm on/off at any time during the cooking process. There are 4 new icons to easily view the status of the cooker, Heat, Pressure Cook, Keep Warm and Sound. The 'Heat' indicates heating or cooking in progress, 'Pressure Cook' indicates the pressure cook program is selected, 'Keep Warm' indicates if it is on/off, and 'Sound' indicates if the sound is on/off when cooking starts or is completed.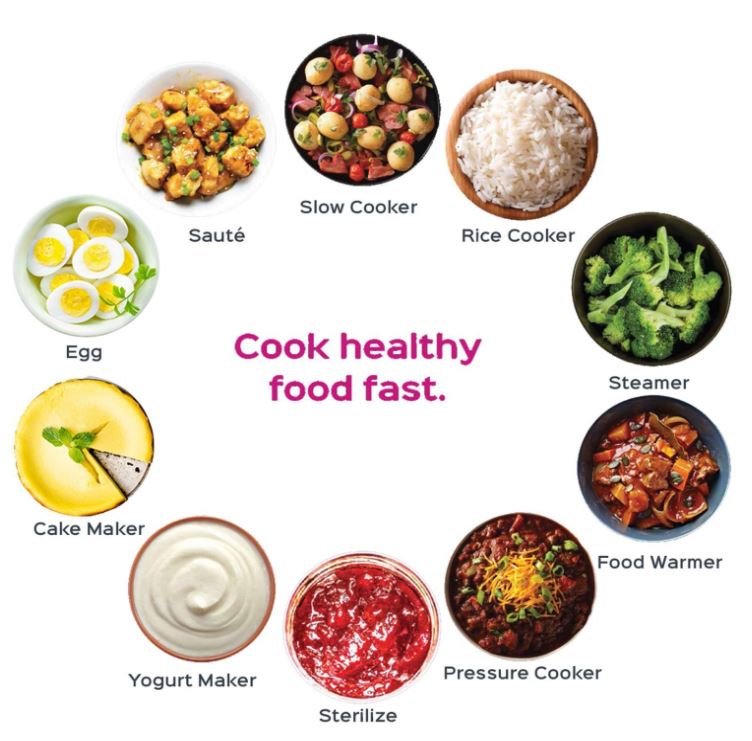 Instant Pot 9-in-1 Multi-Functional Pressure Cooker Features:
Duo Plus is the latest evolution in the #1 selling Multi-Cooker the Duo series, new for 2017 with more custom features, improved usability and a large attractive blue LCD screen
Duo Plus replaces 9 common kitchen appliances including pressure cooker, slow cooker, rice cooker, yogurt maker, egg cooker, sauté, steamer, warmer, sterilizer and it makes cake too
Up to 70% quicker. A great meal is a press of a button away with 15 microprocessor controlled programs taking the guesswork out of your cooking. You can achieve perfect results every time
All components in contact with food are food grade 304 (18/8) stainless steel including the lid, the inner pot with 3-ply bottom and steam rack with handles. They are easy to clean and dishwasher safe
UL certified with 10 proven safety mechanisms gives you peace of mind. Highly Energy efficient, this kitchen friendly cooker Emits no steam when cooking, contains all smells and automates your cooking.
Accessories include – steam rack with handles, recipe booklet, serving spoon, soup spoon, and measuring cup. To maximize performance of cooker only use genuine Instant Pot accessories
Get your Instant Pot 9-in-1 Multi-Functional Pressure Cooker while it is at this low price!