Instant Pot LUX80 8-Qt 6-in-1 Programmable Pressure Cooker ONLY $59.00 (Reg. Price $109.95)
Here is your chance to score a FANTASTIC deal on the Instant Pot LUX80 8-Qt 6-in-1 Programmable Pressure Cooker. I bought an Instant Pot last Black Friday and throughout the summer I have been using my pot to cook numerous fresh veggies such as green beans, corn on the cob, red beets, etc. My favorite part of this pot is the that you put whatever you are making into it and walk away. There isn't the constant checking of things like when you cook on the stovetop. And in the hot summer months, you are not heating up the house when you do your cooking in this Instant Pot. 
With this Amazon deal on the 8-quart Instant Pot, you will be paying ONLY $59.00 (regular price $109.95). Shipping is free!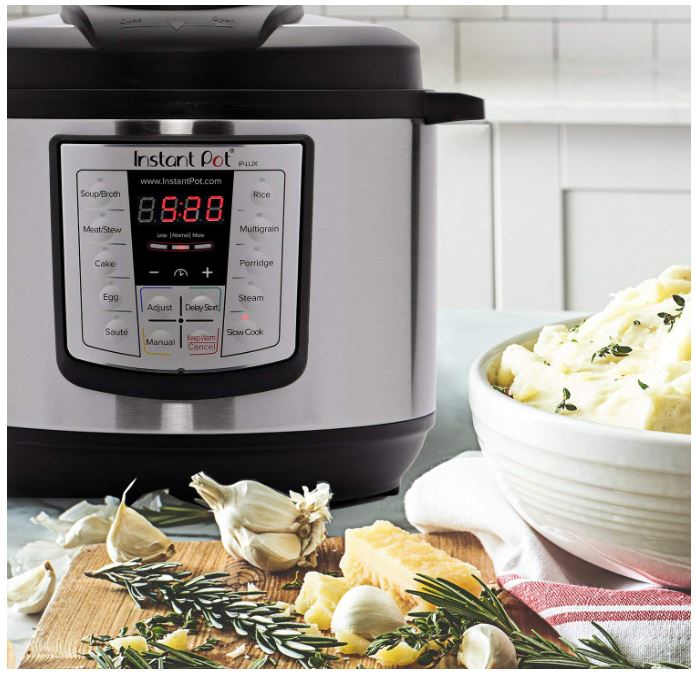 Instant Pot 7-in-1 8-qt. Programmable Pressure Cooker Features:
Instant Pot Lux 8 qt multi-cooker, combines 6 kitchen appliances in 1, Pressure Cooker, Slow Cooker, Rice Cooker, Sauté, Steamer, and Warmer, prepares dishes up to 70% faster to support your busy lifestyle. Please note this item does not have a yogurt function.
3 adjustable modes saute your meals to perfection with less, normal and more (low, medium, high) options
Exterior – brushed stainless steel finger print resistant.
Sound on/off – have the option to turn sound off when needed
Power supply: 120V – 60Hz
Built with the latest 3rd generation microprocessor technology, up to 240 minutes pressure-cooking up to 24 hours delay start, automatic Keep Warm up to 10 hours, 3 temperatures in Saute & Slow Cook
Healthy, stainless steel (18/8) inner cooking pot made from food grade 304, no chemical coating, 3-ply bottom for even heat distribution, fully sealed environment traps the flavors, nutrients and aromas within the food
Get your Instant Pot LUX80 8-Qt 6-in-1 Programmable Pressure Cooker while it is at this low price!