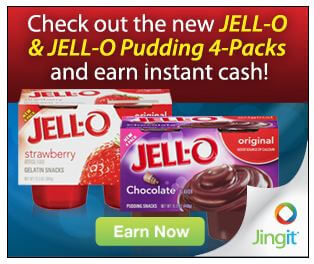 Have you signed up for Jingit? It is a great way to make a little money every day. And all you need to do is watch a few ads that are 30 seconds or less.
If you have previously signed up for Jingit did you know you can watch the following same ads every day and get a credit? With the 4 links listed below you can make $0.82 a day by watching ads. While that may not sound like much, in a weeks time you will have $5.74 in your account.
Update – Thanks to reader Mea for telling us we can watch the S'mores ad every 2 hours, so if you watch it 4 times a day that is an additional $0.80 a day. By watching it 4 times plus each of the other ads once a day you could earn $1.42 a day or $9.94 a week!
Earn $0.12 from Elmer Glue Instant Savings (can be watched once per day)
Earn $0.20 from S'mores (can be watched every 2 hours)
Earn $0.25 from Jell-O Mix Ins and $0.25 from Jell-O 4 Packs (can be watched once per day)