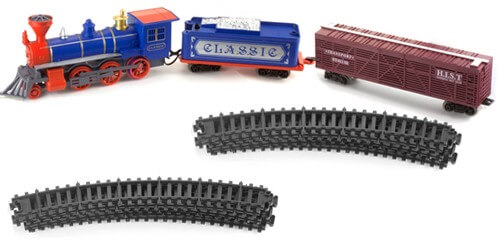 What little guy won't be excited to receive this train set?
You will pay only $5.00 for this 15-Piece Battery Powered Train Set with Over 10.5 Feet of Track, Flashing Lights & Old-Western Train Style. Amazon has this same train listed for $19.45.
All aboard! Now your child can ride the rails with this battery-powered, old western styled train set! Children of all ages love being the railway conductor, directing the train as it chugs its way along the track. Kids and train buffs alike will enjoy the realistic design of this train!
With over ten and a half feet of track, this set will provide hours of train time fun. Real flashing lights add to the excitement. Batteries not included.
Specs
Condition: New
Packaging: Retail
Warranty: 1 Year
Manufacturer: Fenfa
Model: TS113722
Features Include:
Old-Western train style
Real flashing lights
15-piece set
Over 10.5 feet of train tracks
Battery powered
2x AA batteries required (not included)
For ages 3 and up
Package Includes:
15-Piece Battery Powered Train Set
Get your 15-Piece Battery Powered Train Set today, as this deal is good today, 10/13 only.