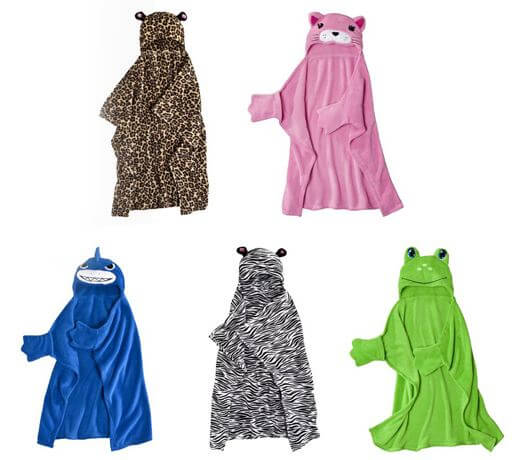 These cute hooded animal blankets would make great Christmas gifts. And today you can score a great deal on them. They are regularly $49.99 but they are on sale for $5.99 + $4.99 shipping, making them only $10.98 shipped!
These lovable, huggable blankets will ward off an evening's chill and warm your child's heart. Featuring soft and squishy animal heads adorning the hood with cute, whimsical features, and hand pockets to keep the little fingers warm*, these blankets are a special treat.
Great for staying cozy around the house, these blankets are made of soft, plush fabric and is machine washable. One size fits all!
Features Include:
Animal hooded blanket
Soft, plush fabric
Fun animal themed design
Provides cozy warmth
Great for staying warm while on the couch or around the house
100% polyester material
One size fits all (children sized)
Dimensions: 45″(W) x 33″(L)
Style: Shark, Zebra, Leopard, Frog or Cat
Get your hooded animal blankets today as this sale is good 10/24, only!