I'm excited to introduce you to a brand new moneysaving deal site – Hoodditt! Hoodditt is "Your Go-To for Where-To-Go" to receive exclusive discounts from your favorite local businesses.
While this new site is similar to Living Social or Groupon in that it helps you save your hard earned dollars, there is also a huge difference. I don't know about you but I hate getting my inbox filled on a daily basis with emails from a host of deal sites. I then need to weed through the offers and delete any that don't apply to me. This is just one of the things I love about Hoodditt, they will not be filling your inbox. Rather, with Hoodditt you select the individual businesses you want to follow. Then the only emails you receive are from your selected places. That means no getting emails about pet grooming when you don't even own a pet.
Head over to Hoodditt to see the available offers. The available deals are only $0.99 each. For example, right now there is an offer available for $30 off a one hour massage. Would I pay $0.99 to save $30? Yes, I most certainly would.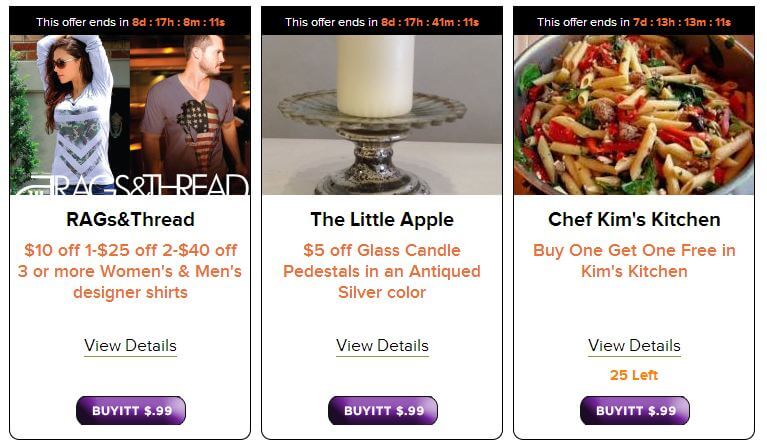 The offers you find on Hooddit cannot be found anywhere else. The exact deal cannot be found on Groupon, not on the businesses Facebook page or anywhere else. Knowing this, you can feel good about spending $0.99 for a moneysaving deal. And if for some reason there is somehow an identical offer, Hoodditt will refund you the $0.99.
If you are ready to save money on purchases in your local community, head over here to Hoodditt and click the "Sign Up" button. All you need to type in is your email address and zip code. There is no credit card or other personal information needed to set up your account.
Hoodditt is also looking for businesses to join their exclusive offers site. So whether you own a restaurant, spa, bakery, flower shop, photography site, Etsy shop, or a business of any kind, Hoodditt is the way for you get your name out and increase business with current and future customers. This site is 100% FREE for business owners and setting up an offer can be done very easily with only a few simple steps. The owner has total control over creating the offer and also the amount of the offer, the time the offer runs, when the offer can be redeemed and more. If you are a business owner, head over to Hoodditt and get started with this perfect form of free advertising.

Hoodditt is currently working with businesses in the New Jersey, Pennsylvania and Delaware areas. Hoodditt wants to be in your neighborhood too. Tell any and all businesses you love about Hoodditt and when they sign up you will get the benefit of saving money the next time you visit their location. If you have a business and would like to create offers for your customers, please use Coupon Cutting Mom in the referral code area.
Be sure to follow Hoodditt on Twitter and Facebook to stay up to date on all offers and promotions.