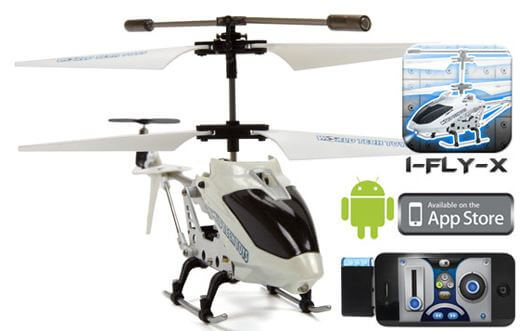 This GYRO iFly Heli Metal 3.5CH Electric RTF Remote Control Helicopter is priced at only $24.99 (reg. price $99.99) + free shipping!
Introducing the newest and most innovative helicopter around, the GYRO iFly Heli Metal 3.5CH Electric RTF RC Helicopter! If the name didn't already give it away the iFly Heli is controlled off of the iPhone, iPad or iPod Touch! That is right, this RC helicopter is controlled by you using one of these Apple products! All you need is to download the Free App in the Apple App Store and plug in the Head Phone Jack Transmitter to one of the Apple products and you are ready to take to the skies! This awesome helicopter also comes with the greatest advancement in Helicopter Technology, a Gyro. No more crashing, no more replacing parts, the Gyro has changed the Helicopter industry completely, making this RC Helicopter super easy to fly and maneuver. This is not your ordinary RC helicopter the GYRO iFly Heli is one of the toughest helicopters out there with extremely durable rotor blades. But don't worry this is no tank in the sky, the iFly Heli is quick, responsive and extremely agile while in flight and hovering is easy for this helicopter as it can do it on its own!
Great for pilots of all skill levels, this bad boy features a coaxial rotor and a single rear rotor for precise movement and increased stability! An internal 3.7V rechargeable battery powers this great RC helicopter while the iPhone Head Phone Jack Transmitter is charged using the included USB charging cords. Get ready to grab the controls and take flight of the best flying GYRO helicopter around, the GYRO iFly Heli Metal 3.5CH Electric RTF RC Helicopter! iPhone not included.
Specs
Condition: New
Packaging: Retail
Warranty: 30 Day
Manufacturer: World Tech Toys
Model: 35846
Features Include:
Built-in gyroscope for maximum stability
Electric powered
3.5 channel control
iPhone/iPod Touch/iPad & Android compatible
Coaxial rotor
Single rear rotor
IR transmitter
Charges off USB cables
Extremely stable flight
USB chargers
LED lights
Ready to fly
Get your GYRO iFly Heli Metal Remote Controlled Helicopter here. This sale is good 1/25 only.