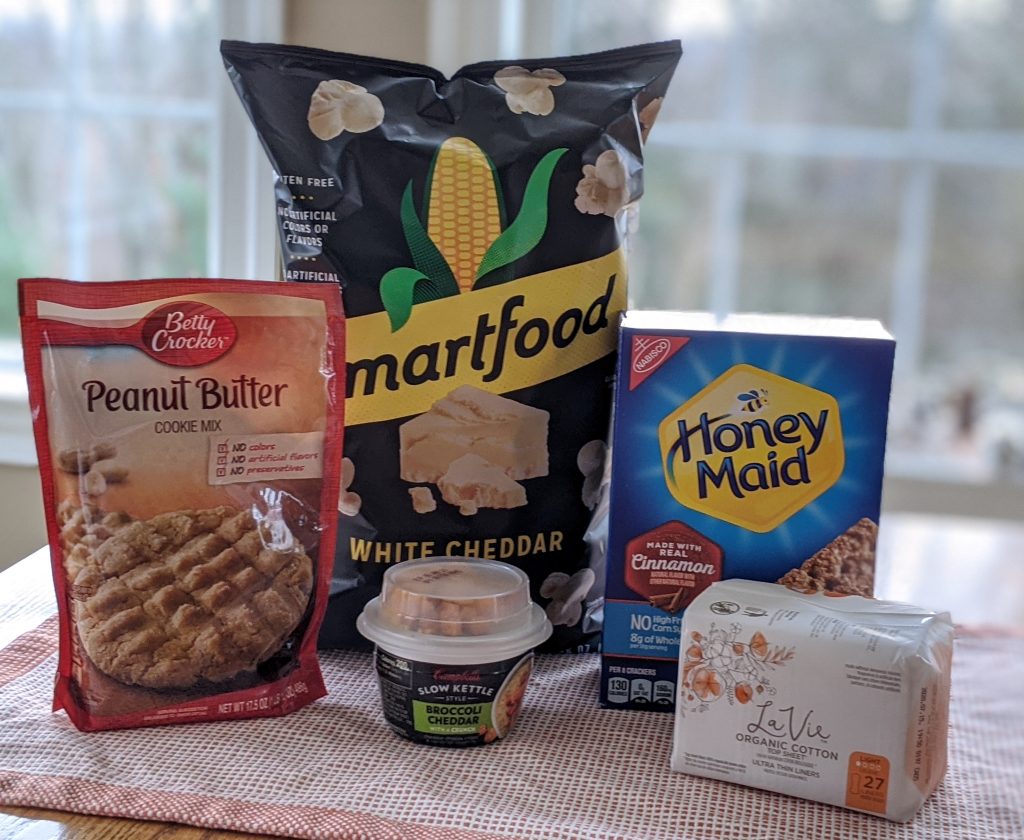 $22 Worth of Grocery Items FREE Thanks to Money Saving Apps
Thanks to Ibotta, Fetch Rewards, and the Coupons.com apps, I scored all the above groceries (with a shelf price of $22.44) for free! Later after I snapped the picture, I discovered I forgot to add the Hot Pockets that I had already put in the freezer to the picture as well. If you are not using these apps, there is no better time to start as these apps are a fantastic way to save and also earn money back on your purchases.
If you are new to Fetch Rewards, it is an app that "pays" you for uploading pictures of your paper receipts. It is so easy. Just do your grocery shopping, and when you get home, snap a photo of your receipt. There are no videos to watch, no barcodes to scan – simply just take a pic of your receipt. You will get 25 points for every receipt you scan, plus certain brands earn up to several hundred points per item. From time to time, some offers earn you 100% points back for buying select items, which in my case, I had one of these 100% points back for a La Vie purchase.
Then on Fetch, you use your earned points and redeem them for FREE gift cards to everything from Amazon to dining out. If you are new to Fetch Rewards be sure to enter promo code RM3DQ when you download the Fetch Rewards app to earn 2,000 bonus points! That's a free $2.00 bonus! Just remember to enter the promo code before you add your first receipt. Sign up HERE for Fetch Rewards.
With the Ibotta app, you can browse offers and select the ones you want. Then head out to Target, Walmart, grocery stores, drug stores, etc., to purchase the participating products. After you make your in-store purchase, just snap a picture of your receipt and scan the barcodes of your selected purchases, and Ibotta will verify your purchase, and a credit will be added to your account within 24 hours. Once you have reached $5 in earnings, you can transfer your money directly to your Paypal account or redeem for numerous gift cards. Get the Ibotta app HERE.
And Coupons.com has a new look to the app and also new features. There are now many cashback offers, and once activated, you simply do your shopping, and if you have your store card linked to your account, there is nothing else you need to do – the money simply goes to your Paypal account. Or if you don't have your store card linked to your account, then you just snap a picture of your receipt.
La Vie is found on the Fetch app. Betty Crocker cookie mix is on coupons.com. And the rest of the items – Honey Maid Graham Crackers, Smartfood Popcorn, Campbell's Soup, and Hot Pocket Sandwiches are all on Ibotta.