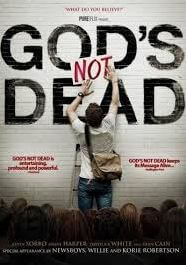 God's Not Dead DVD Sale
Here is a great sale on the God's Not Dead DVD. This DVD is regularly $24.99 but with this sale you will pay only $12.49! This would make a great Christmas gift for someone on your list.
In God's Not Dead, college freshman and devout Christian Josh Wheaton (Shane Harper) finds his faith challenged on his first day of Philosophy class by the dogmatic and argumentative Professor Radisson (Kevin Sorbo). Radisson begins class by informing students that they will need to disavow, in writing, the existence of God on that first day, or face a failing grade. As other students in the class begin scribbling the words "God Is Dead" on pieces of paper as instructed, Josh find himself at a crossroads, having to choose between his faith and his future.
God's Not Dead weaves together multiple stories of faith, doubt and disbelief, culminating in a dramatic call to action. The film is meant to educate, entertain, and inspire moviegoers to explore what they really believe about God, igniting important conversations and life-changing decisions.
Get your God's Not Dead DVD here before the sale ends.