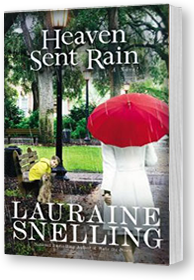 The GIVE: JOY Sweepstakes from Lauraine Snelling
In bestselling author Lauraine Snelling's new novel, Heaven Sent Rain, Dinah Taylor has an orderly life, and that is just how she likes it. A balanced bank account, a perfectly furnished luxury apartment, a satisfying career as a scientist and CEO of her own company, and an uncomplicated personal life. Then her well-ordered world is thrown into chaos when she finds a seven-year-old boy and his scruffy dog sitting alone outside her office building.
To celebrate the release of this heart-warming novel, FaithWords and author Lauraine Snelling are pleased to present the GIVE:JOY Sweepstakes. This sweepstakes features three spectacular prizes, each closely connected to the story, but each prize also comes with a twist: you "Enter to Give", rather than "Enter to Win"!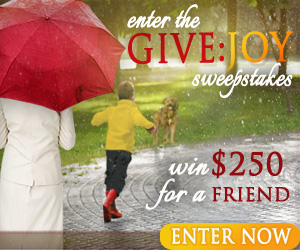 This is your chance to do something beautiful and make a difference for a friend, family member, shelter, church, or charity.
This giveaway will end on July 21, 2014 @ 11:59 pm (PST). Entry is open to US residents only, age 18 and over. Winners will be selected Tuesday July 22, 2014. Find out all the details and enter here for a chance to win this GIVE:JOY Sweepstakes.