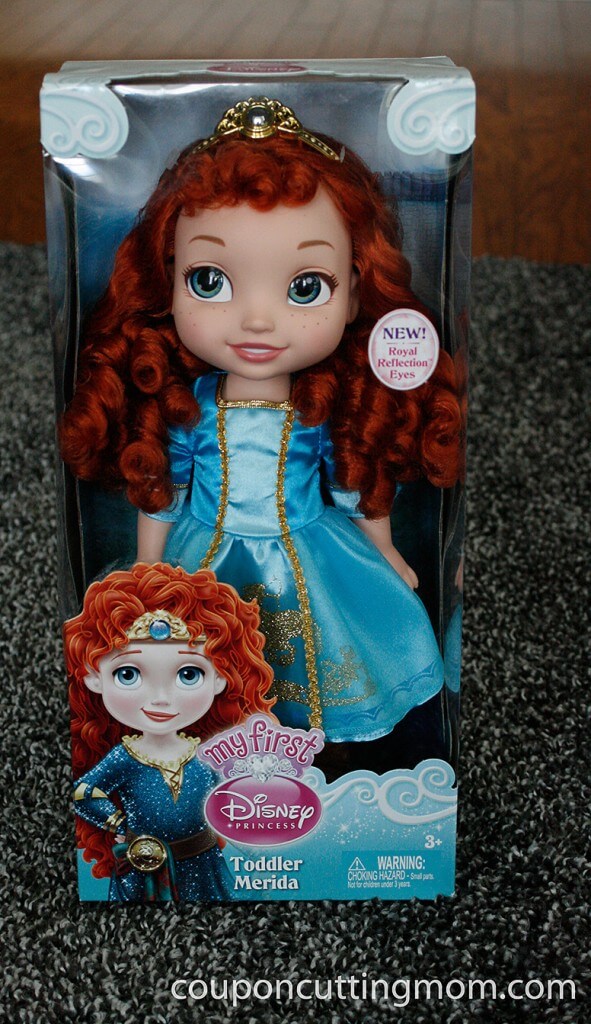 Are you looking for the perfect Disney doll for your little princess? Let me introduce you to
Jakks Pacific
, the maker of beautiful Disney Princess dolls. Today I'm excited to show you this lovely
My First Disney Princess Toddler Merida
.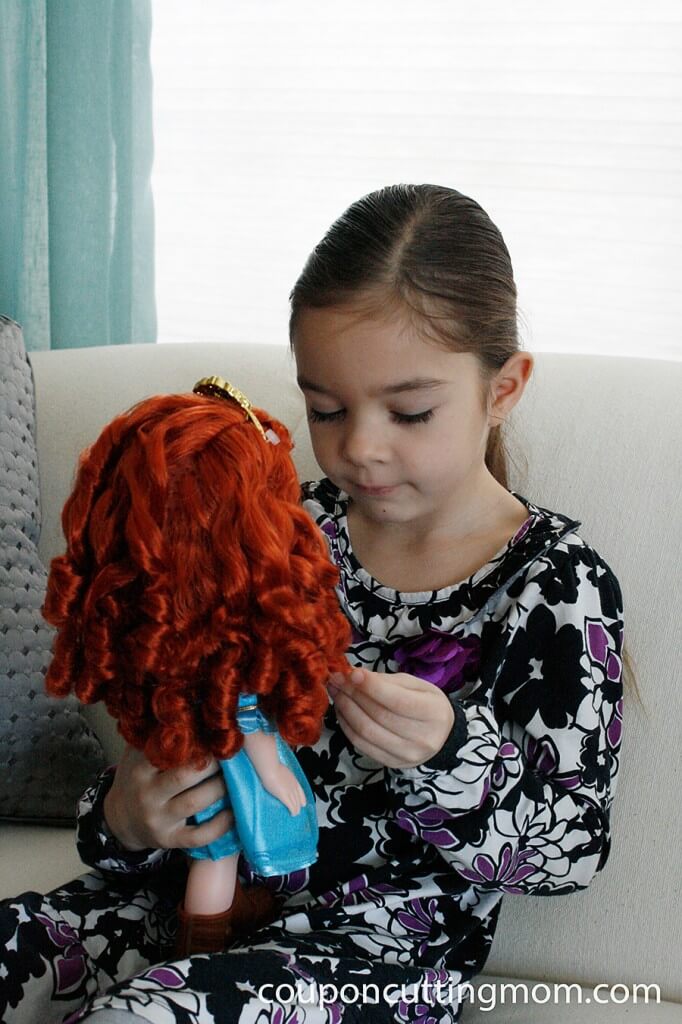 My daughter fell in love with her Toddler Merida even before I was able to finish unfastening the doll out of her packaging. This poseable Merida doll is 15″ tall and comes with amazing and curly orange hair. There are just lots and lots of long locks of gorgeous curls on this doll. My daughter couldn't get done just running her hands through
Merida's headful of curls
. There is also a tiara that crowns Merida's lovely hair and it sparkles with a beautiful jewel.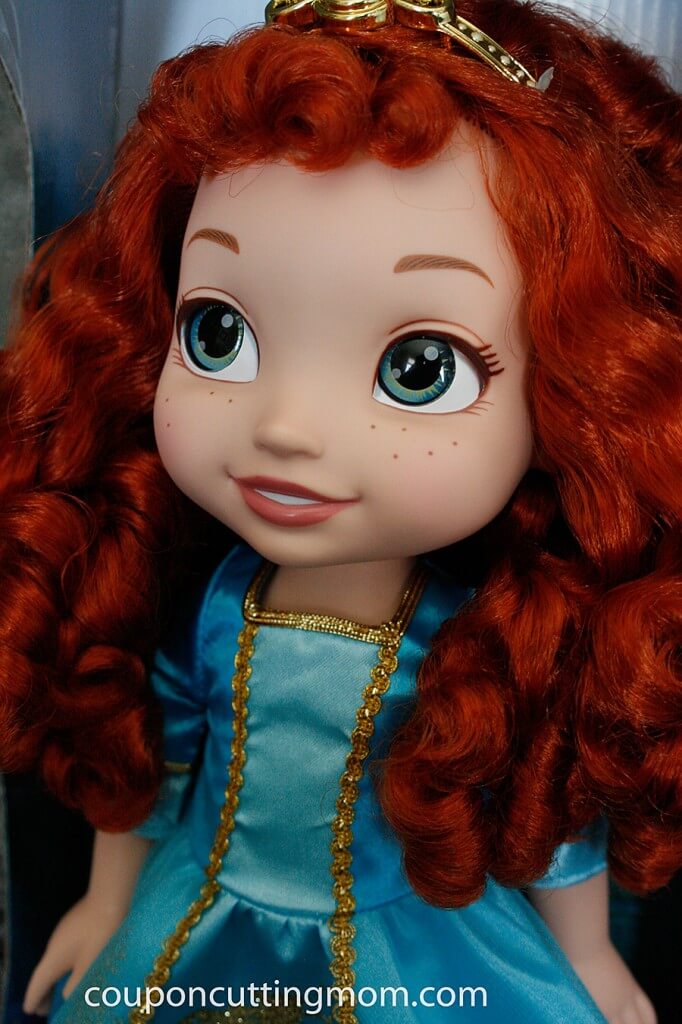 And her eyes! Wow! These are the most awesome eyes I have ever seen on a doll. Merida's Royal Reflection eyes shimmer and shine and look so life-like. If you need a reason to buy one of these dolls then let me suggest that her eyes are reason enough that you should purchase this doll. Merida even comes with a speckling of freckles across her face.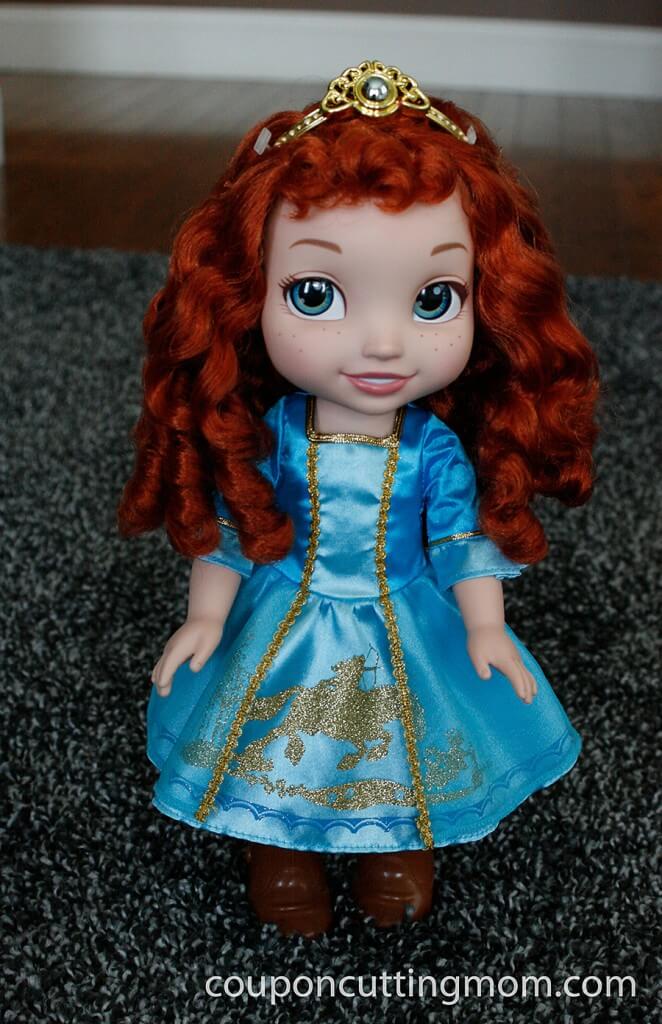 Merida's dress is beautiful and is decorated with a glittery scene right out of her fairytale story. Her feet are outfitted with cute brown removable boots.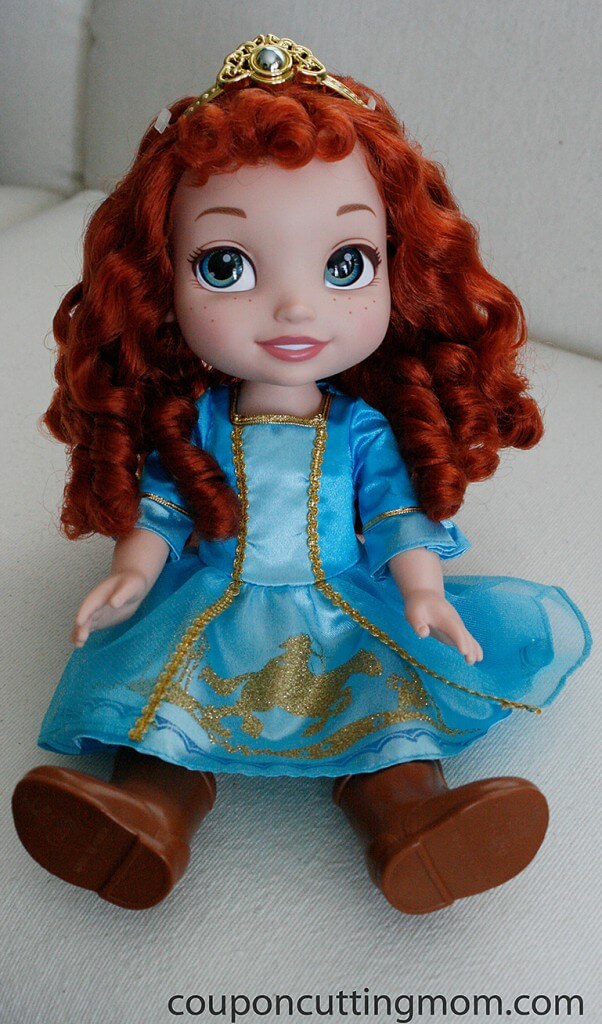 If you are ready to make your little girls' royal wishes come true, be sure to add the
Toddler Merida doll
to her gifts for Christmas morning.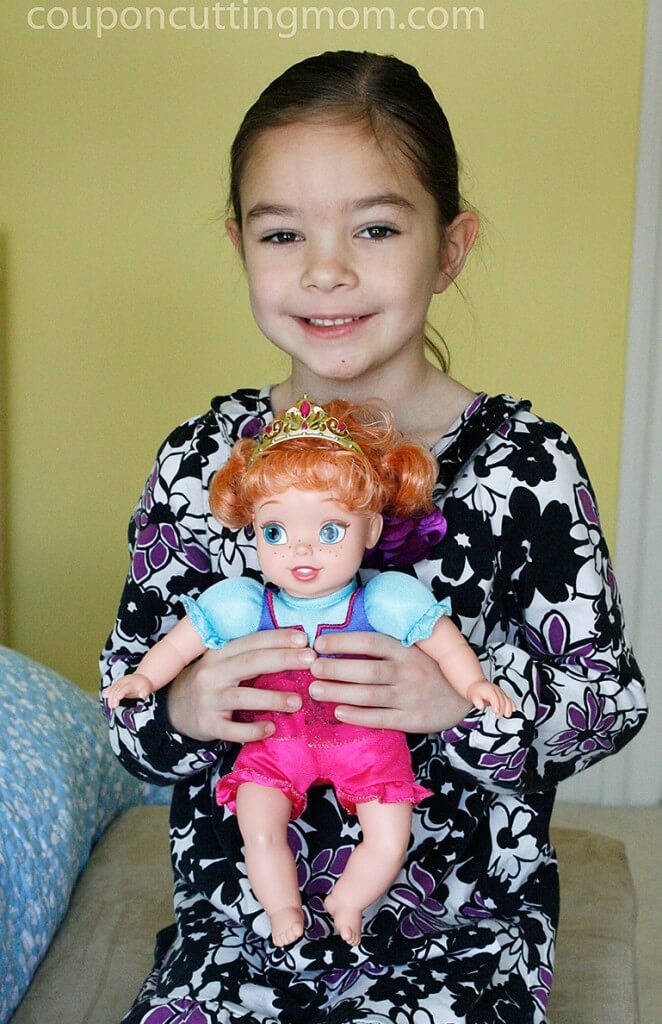 The
Baby Anna doll
is also from Jakks Pacific and will be an instant hit with any little girl that is a Frozen fan. Baby Anna is designed to look like the Anna character from the movie, "Frozen" as a baby.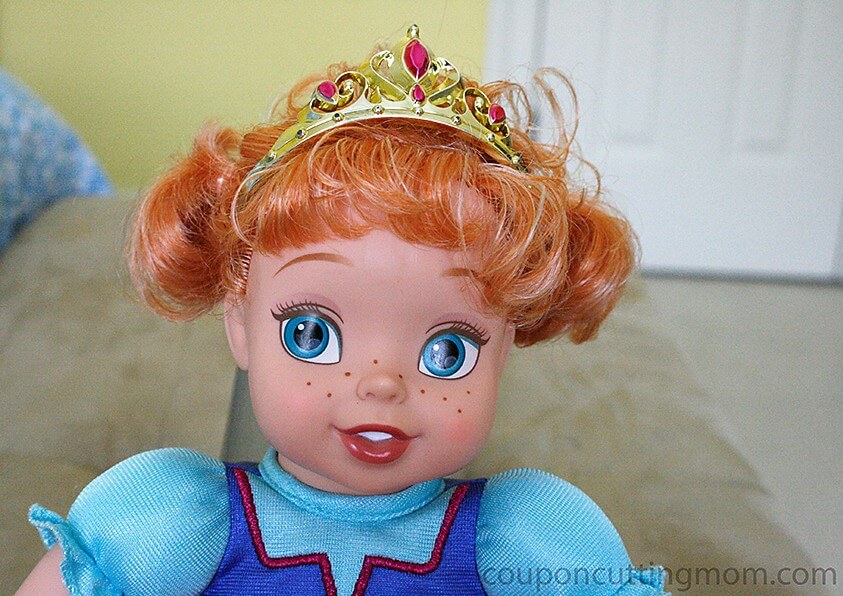 Baby Anna is a 13″ doll with plastic arms, legs, and head and a soft body. This makes her the perfect doll to hug and cuddle with. Baby Anna has her red hair pulled back into pigtails and comes with a sparkly gold and pink tiara in her hair. The
sparkly dress
on Baby Anna is inspired by the one that grown-up Anna wears in the movie.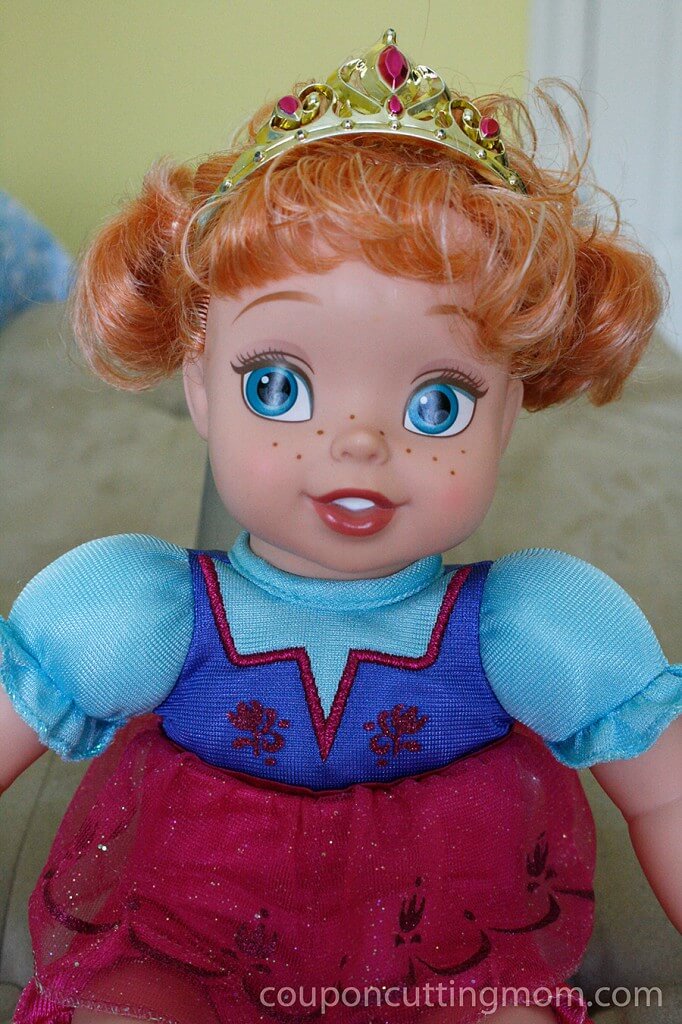 This
Baby Anna doll
would be a total hit with even the very youngest of Frozen fans. Any toddler will fall in love with this huggable Frozen doll and will want to take her along everywhere she goes.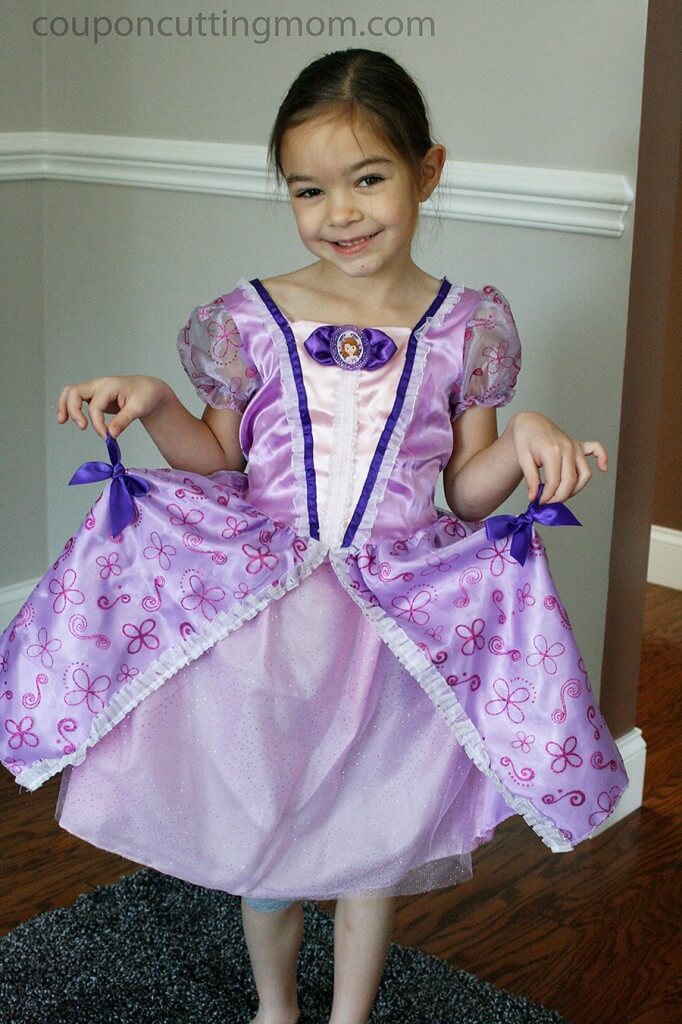 My 6-year old daughter is a huge fan of Sofia the First and was very excited to also receive this
Royal Curtsy Dress
from
Jakks Pacific
. This is dress is totally inspired by the hit Disney Junior series and will make any little girl feel like Sophia.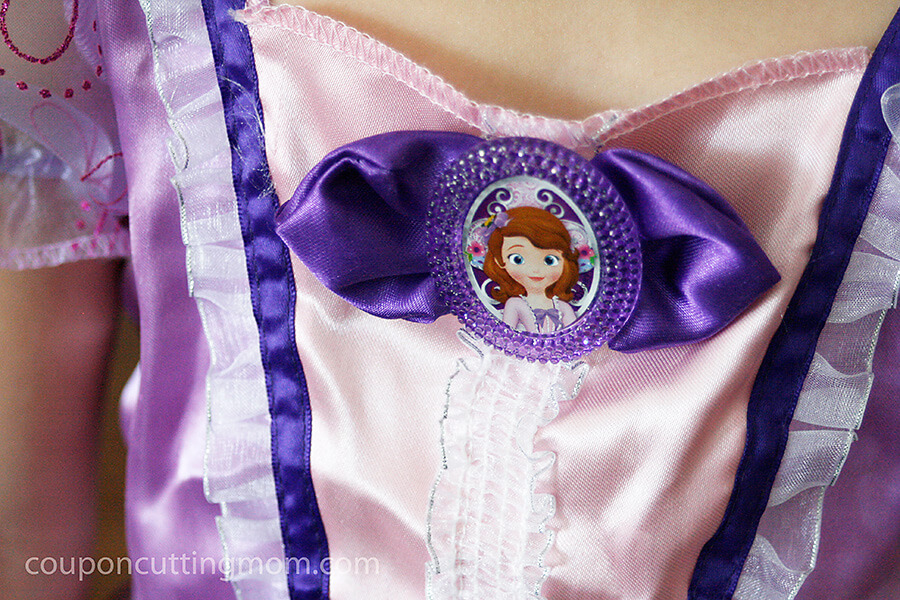 My daughter has such a great time playing dress up and twirling around in this dress. The Royal Curtsy dress is filled with elegant details including a satin bodice with ruffled purple satin lining and a royal bow at the neckline with a Sofia icon. The skirt has delicate glitter swirl details and is laced in a beautiful white organza ruffle. There is also an adorable Princess Sofia icon button at the neckline.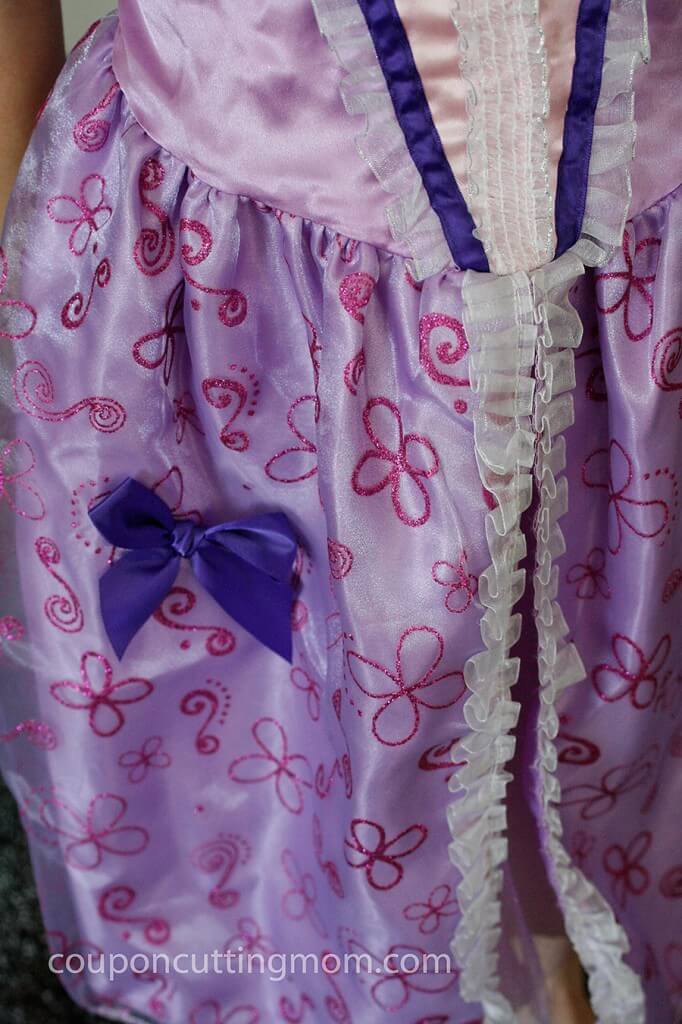 What my daughter totally loves about this dress is that she is the two purple bows on the skirt. All she needs to do is hold the bows and she is well on her way to learning the
perfect princess curtsy
.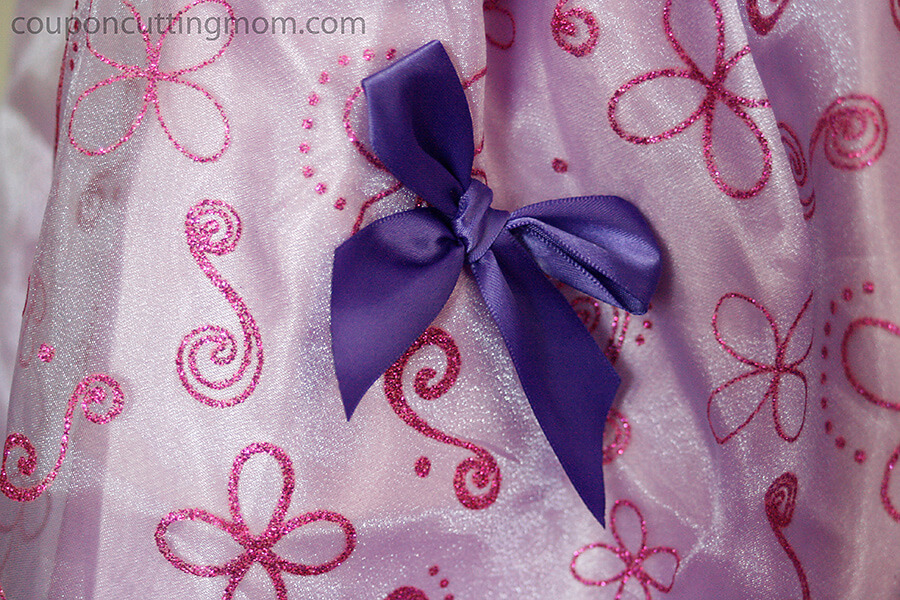 This dress fits ages 4 – 6x and would make the perfect gift for any girl who loves pink and lavender that shimmers and anything related to Princess Sofia.
Be sure to follow Jakks Pacific on Facebook and Twitter to stay up to date on all the newest toys, offers and promotions.
Coupon Cutting Mom received one or more of the products mentioned above free for evaluation purposes. Regardless, all opinions expressed are still 100% my own.