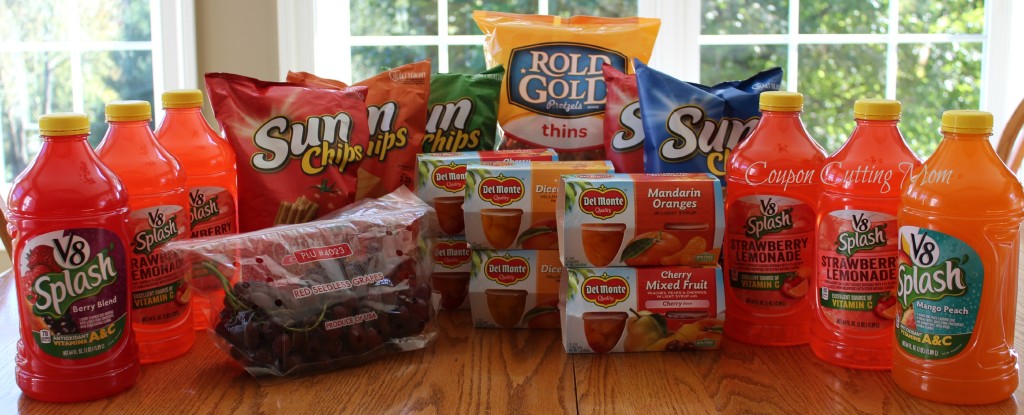 Giant: $57 Worth of Sun Chips, V8 and More ONLY $10 
These items are from my Giant shopping trip and have a shelf price of $57.67. I just realized that the five Yoplait yogurts I purchased didn't make it on the picture so you will just need to imagine they are pictured. After sales and coupons, I paid $41.69 for these groceries. This purchase also earned me 1200 gas points that will equal $30 on my next fill up. This basically means I paid ONLY $11.69 for Sun Chips, V8 Splash, and fruit. I'm excited that all of these items are lunch packing foods. It seems like I can never keep the pantry full of things for lunches now that both kids are in school full time.
Please note that this is the week that Giant is switching their sales cycle to run from Friday through Thursday. This week these deals are good only through 10/8 and we will have new deals starting on 10/9.
Here is a breakdown of my Giant purchases: (prices good through 10/8)
Buy 6 Del Monte Fruit Cups, 15-16oz: $2.00 each
Pay $12.00
Receive $10.00 in gas rewards
Final price $0.33 each!
Buy 6 V8 Splash, 64oz: $2.00 each
Use 3 $1/2 V8 Splash coupons, exp. 10/31/15 (SS 9/13)
Pay $9.00
Receive $10.00 in gas rewards
Final price FREE + $1.00 moneymaker!
Buy 6 Frito Lay Baked! Chips, SunChips or Rold Gold Pretzels, Selected Varieties, Baked!, 6.25 oz., SunChips, 7 oz. or Rold Gold, 7–16 oz: $3.00 each
Pay $18.00
Receive $10.00 in gas rewards
Final price as low as $1.33 each!
Yoplait Yogurt or Lactose Free Yogurt, 4-6oz: $0.50
Use $0.50/5 Yoplait Yogurt Printable
Or use $1/10 Yoplait Yogurt, Includes Original, Light, Light Thick & Creamy, Thick & Creamy, Whips!, Lactose Free, Greek, Greek 100, or Greek 100 Whips! printable
Pay $1.50
Recieve $0.50 SavingStar Deposit
Final price $0.20 each!
Fresh Red Seedless Grapes, $0.97/lb
With in ad coupon and $25 purchase
My pack of grapes cost me $1.69!