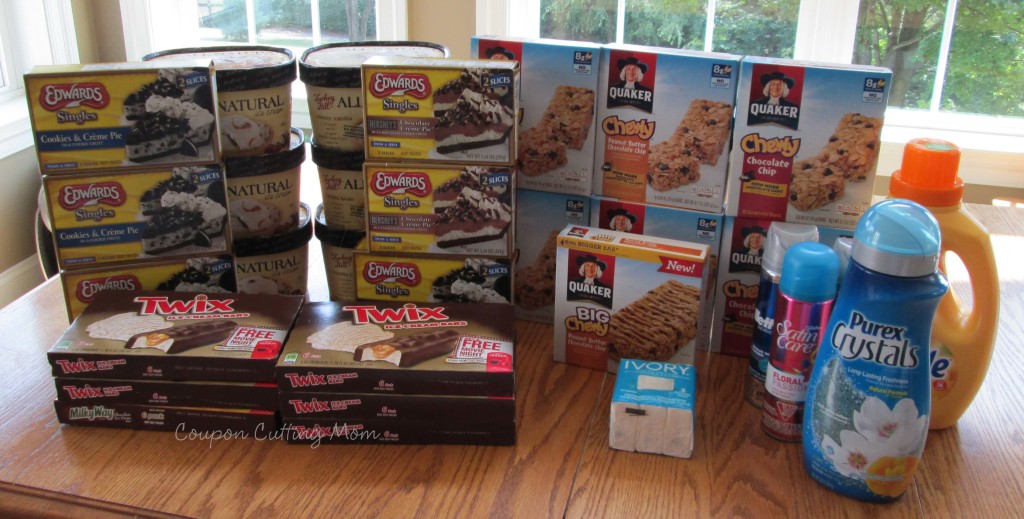 These items are from my Giant shopping trip and come with a shelf price of $109.31. After sales, coupons and instant savings I paid $50.49 and earned $45.00 in gas points. The way I figure this was like paying only $5.49 for all these 33 items!
I'm guessing now that summer is almost over, this is likely the last time we will see this many frozen treats in the gas points for a while. I was excited that all the Twix and Milky Way items included a free Red Box code good. That means 6 free movie rentals!
In addition to the Giant deals listed here, these are the other deals I did. I also used the, "Spend $50 Earn 300 Gas Points" coupon found in the weekly flyer.
Purex Crystals $4.99
Used $1/1 Purex coupon from the 8/4 RP
Paid $3.99
Gillette Series Shave Gel $2.00
Use the $6/3 Gillette coupon from the 8/11 RP
Pay $0.00!
Ivory Bar Soap 3 pk. $1.00
Used the $0.50/1 Ivory coupon from the 7/28 PG
Paid $0.00!
Head here to see all of this week's Giant deals.