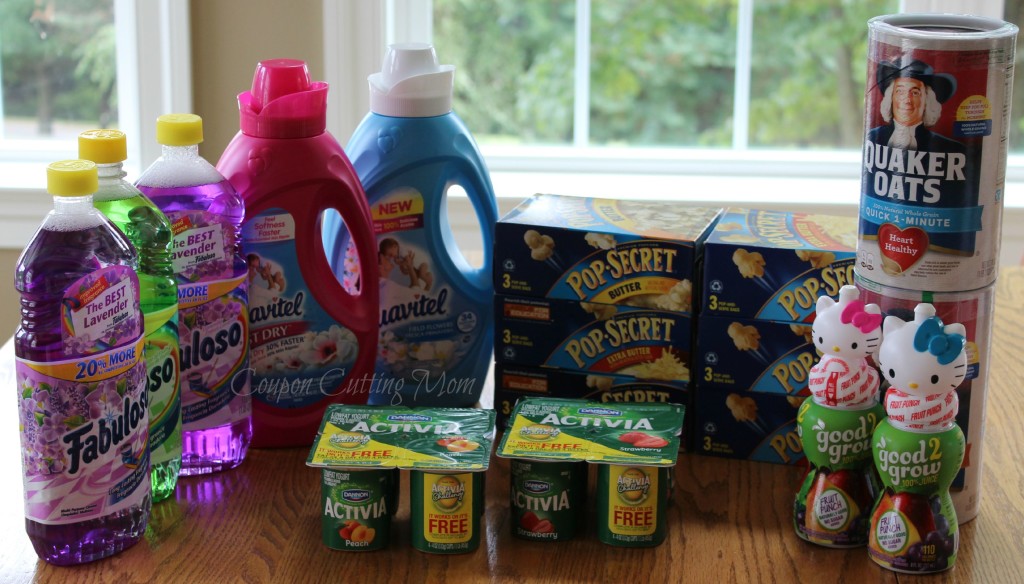 These items have a shelf price of $47.73 at Giant but after sales and coupons I paid $20.53. I then earned 1200 Gas Reward Points that equal $30.00 worth of fuel at my next fill up. The way I figure this means this shopping trip was a moneymaker of $9.47!
As I stated above, I paid $20.53 for these groceries. If you add everything up, you would think that my number was $10 too low, and that is because I used an additional coupon – a $10 Giant coupon. I have exciting news for all Giant shoppers, and this good news includes how you can easily score your $10 Giant coupon as well.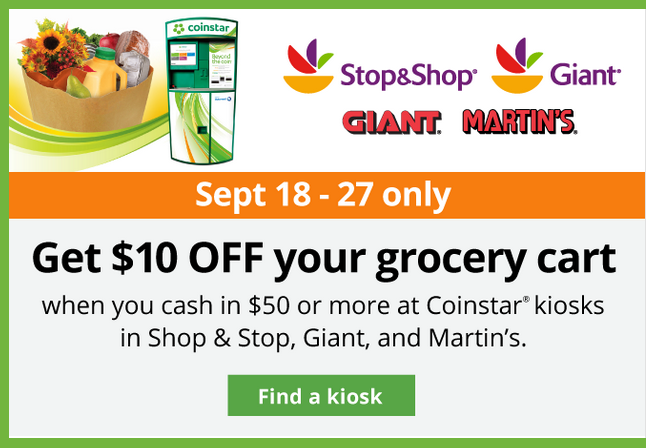 Now is the time to open your piggy banks, dig under the sofa cushions and grab your loose change jar and head to Giant. When you cash in $50 or more in change at any Coinstar located inside of Giant, you will receive a $10 Giant coupon. This offer is running through 9/27 and the $10 coupon that prints is valid through 10/4.
When you empty your change into the Coinstar machine, you will have the option to select an eGift card (see the list of dining and retailer eGift cards to you can select from) or cash for your change. I selected an eGift card as there is a fee for receiving cash. After all the loose change is dumped in and sorted, an eGift card to the retailer you selected will print out and at the bottom of that paper will be your $10 Giant coupon. How easy is that? Getting paid $10 to get rid of your loose change! That is what I call a win-win situation.
Here is a breakdown of my Giant transactions: (prices good through 9/26)
Bought 2 Good2Grow Juice, 6-8oz: $2.50 each
Bought 2 Quaker Oats, 18oz: $2.00 each
Bought 2 Dannon Activia Yogurt, 4pk: $2.29 each
Used 2 $1/1 Good2Grow 100% Juice printable [Enter email address]
Used 2 $1/1 Dannon Activia Greek Yogurt printable
Pay $9.58
Receive $10.00 in gas rewards
Final price FREE + $0.42 moneymaker!
Bought 6 Pop-Secret Popcorn, 3ct: $2.50 each
Used 6 $1/1 Pop-Secret Popcorn printable
Or use $1/2 Pop Secret Items Printable
Pay $9.00
Receive $10.00 in gas rewards
Final price FREE + $1.00 moneymaker!
Bought 3 Fabuloso Cleaner, 33.8oz: $1.99 each
Bought 2 Suavitel Fabric Softener, 50-56oz: $2.99 each
Pay $11.95
Receive $10.00 in gas rewards
Final price $1.95 or $0.39 each!
Be sure to check all of this week's Giant deals here before shopping!