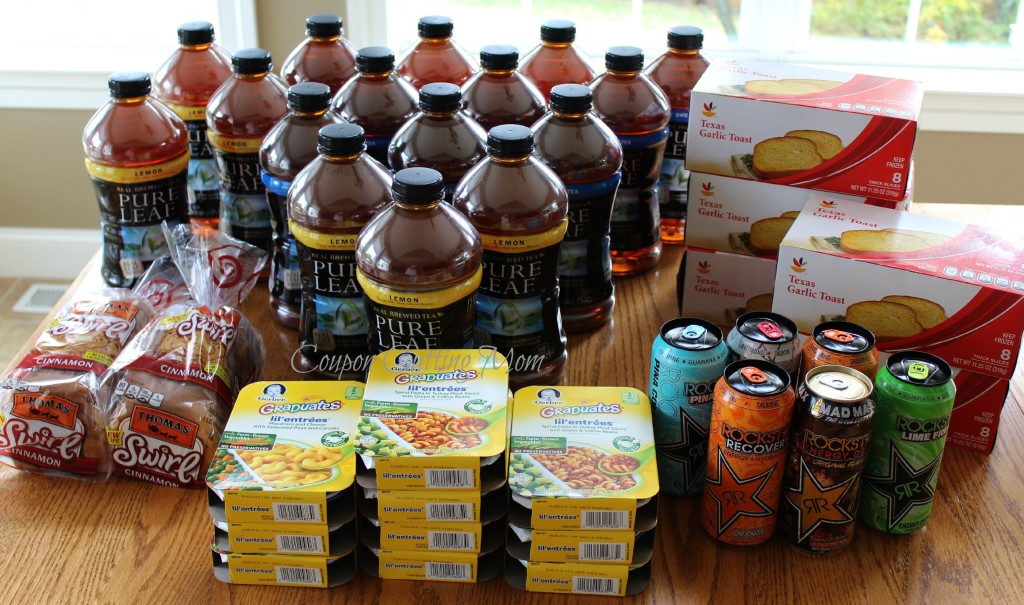 It is an awesome shopping week at Giant for all Gas Reward users. I'm so glad I live in the area of Giant stores and that I'm able to take advantage of the great Gas Points that they offer. I don't think I can say this often enough if you have a car that uses gasoline and live in the area of Giant stores you really should be taking advantage of the great buys they offer. Thanks to Giant, I rarely pay any money out at the gas pump. I now only pay money at the grocery checkout and get groceries for my family and also earn gas points. Shopping the gas deals is like two things for the price of ONE!
The items pictured above have a shelf price of $105.67. After sales, coupons, and a Catalina, I paid $64.18. This purchase then earned me 2900 gas reward points or $2.90 which will equal $72.50 on my next 25 gallon fill up which makes this purchase a moneymaker of $8.32!  It also means that with just the groceries pictured I have more than enough points to get a FREE fill up at the pump.
You may be wondering why I purchased baby food when my youngest daughter is already 7-years old. Notice that the Gerber items were a nice sized moneymaker and I know that these will be great donation items to my local food pantry. Not only did I buy the Gerber to donate but also because it earned me FREE gas that I will never have had to pay a penny for. Same thing with the RockStar drink. This drink isn't something I would usually purchase but because it was FREE plus a $1 moneymaker it was a no-brainer for me to add that to my cart as well. If you try to count the things in the picture, you will find that there are a few things missing, and that is because we used a few of the products before I snapped the picture. Just be sure to follow the scenarios posted below and not the amount of items pictured to earn all your gas points.
Here is a breakdown of my Giant purchases: (prices good through 10/29)
Buy 7 Giant Texas Toast or Garlic Bread, 10-13.5oz: $2.00 each
Pay $14.00
Receive $12.50 in gas rewards
Final price $0.21 each!
Buy 6 Rockstar Energy Drink, 16oz: $1.50 each
Pay $9.00
Receive $10.00 in gas rewards
Final price FREE + $1.00 moneymaker!
Buy 10 Gerber Lil' Entrees, 6.6-6.8oz: $2.00 each
Buy 2 Thomas Swirl Bread, 16oz: $2.99 each
Use 3 $1/3 Gerber Graduates Meals or Sides Items Printable [off any 3 Gerber Graduates Meals or Sides items]
Or use 5 $1/2 Gerber Regular or Graduates Food, exp. 10/31/15 (RP 09/13/15)
Use 2 $0.45/1 Thomas Swirl Bread printable
Pay $19.18
Receive $20.00 in gas rewards
Receive $4.00 Catalina from Gerber purchase
Final price FREE + $4.82 moneymaker!
Buy 18 Lipton Pure Leaf Tea, 64oz: $2.00 each
= $36.00
– $5.00 Instant Savings
– $5.00 Instant Savings
Pay $26.00
Receive $30.00 in gas rewards
Final price FREE + $4.00 moneymaker!
Be sure to check all this week's deals here before planning your Giant shopping trip.