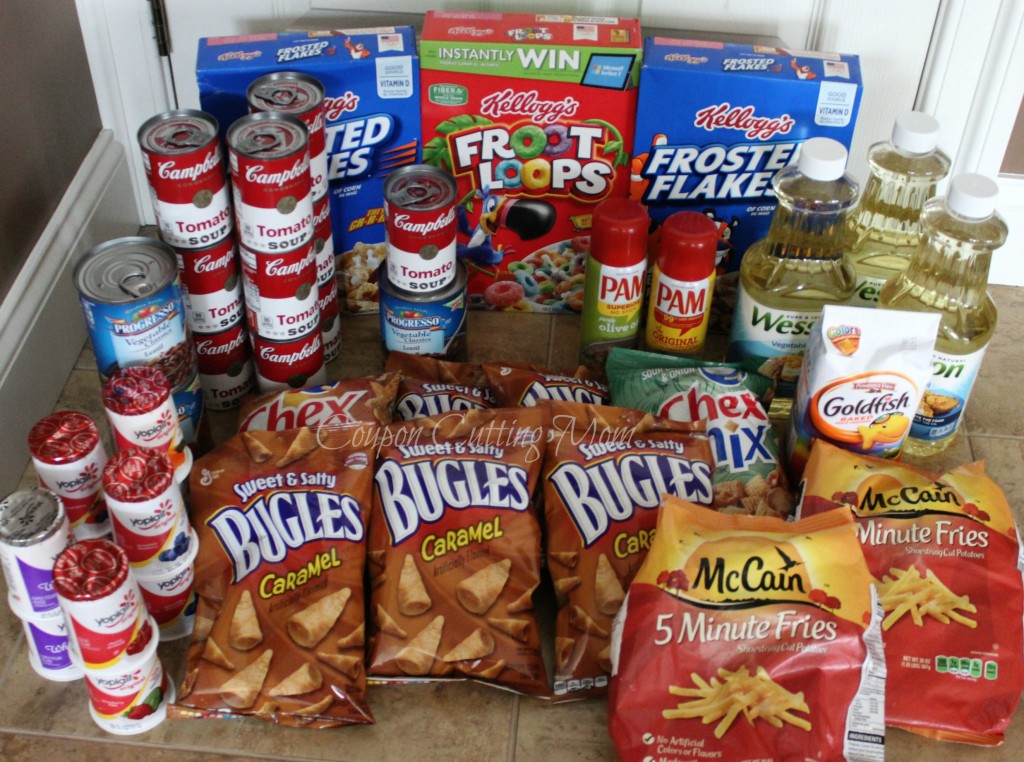 I was excited to head to Giant and do my grocery shopping this week as there were numerous deals on items that my family uses on a regular basis. The items pictured above have a shelf price of $81.29, but after sales and coupons, I paid $34.99. I earned $1 back from
SavingStar
and also 1000 Gas Reward Points that are equal to $25.00 the next time I fill my fuel tank. Taking all these numbers into consideration, this means I had an 88% savings and paid ONLY $8.99 for these groceries.
Here is a breakdown of my Giant purchases: (prices good through 1/14)
Bought 10 Campbell's Chicken or Tomato Soup, 10.75oz: 10/$5.00
wyb 10; other quantities $1.00 each
Use 2 $0.40/4 Campbell's Condensed Soups Printable
Use $0.40/4 Campbells' Condensed Soups e-coupon
Final Price: $0.26 each wyb 10
Bought 3 Kellogg's Cereal, select varieties: $1.66/ea wyb 3
Other quantities $2.50
Includes: Rice Krispies, 12oz, Apple Jacks or Froot Loops, 12.2oz, Corn Pops, 12.5oz, or Frosted Flakes, 15oz.
Used 3 $1/1 Kellogg's Cereal printable [8.7-oz.+; requires reward points]
Final Price: $0.66 each wyb 3
Bought 3 Progresso Vegetables Classics Soup, 18-19oz: $0.88 each
Used 3 $0.50/1 Progresso printable
Final Price: $0.00
Bought 10 Yoplait Yogurt, 4-6oz: $0.50 each
Used 3 $0.40/2 Yoplait Yogurt Printable
Paid $2.60
Submitted for the $1 Yoplait SavingStar offer
Final Price $1.60 or $0.16 each!
Pepperidge Farm Goldfish Crackers, 6-8oz: $2.00
Use in-ad coupon
Pay $0.99!
Bought 2 McCain Fries, 20-26oz: $2.50 each
Bought 3 Wesson Canola or Vegetable Oil, 48oz: $2.50 each
Bought 2 Buy 7 PAM Cooking Spray, 5-6oz: $2.50 each
Use 2 $1/1 McCain 5 Minute Fries Frozen Potatoes Printable
Paid $15.50
Receive $12.50 in gas rewards
Final price $3.00
Buy 7 Chex Mix or Bugles, 7-8.75oz: $2.00 each
Use 2 $0.50/2 Chex Mix, Chex Chips, Bugles or Gardetto's Mix, exp. 1/9/16 (SS 11/15/15) first coupon will double
Pay $12.50
Receive $12.50 in gas rewards
Final price FREE!
Be sure to check out all this week's Giant shopping deals before planning your shopping list.