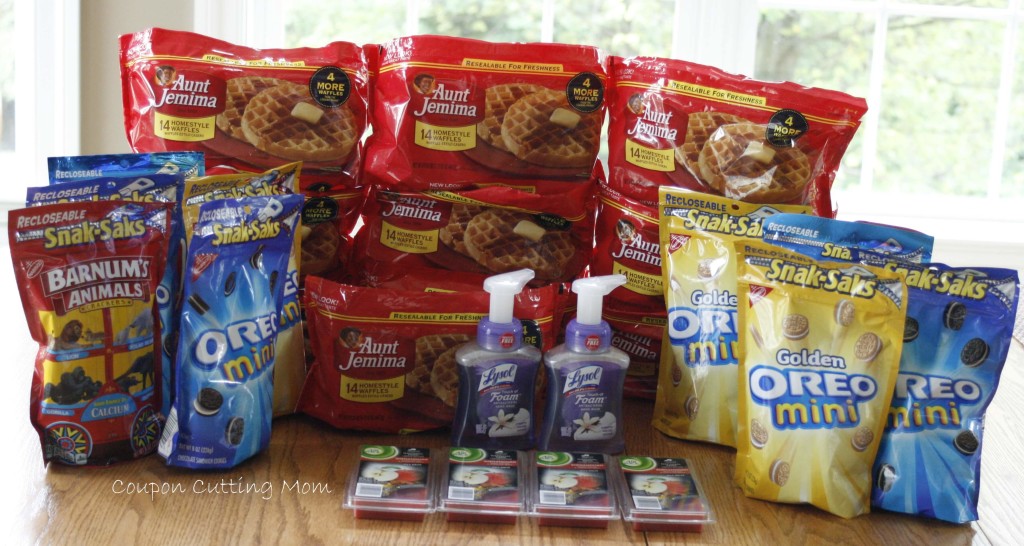 I was excited about shopping at Giant this week and scoring some snacks for our packed lunches. And, most of all I was super stoked about scoring FREE waffles for our busy school morning breakfasts. The Snak-Saks, Aunt Jemima, Air Wick and Lysol items have a shelf price of $76.94. After sales, coupons and Instant Savings, I paid $29.16 and earned $17.50 worth of free fuel. This means it was like me paying only $11.66 for all these items.
Here is a breakdown of my Giant shopping trip: (prices good through 10/4)
Bought 10 Nabisco Snak-Saks $1.99 each
Bought 2 Lysol Liquid Hand Soap Pump 8.5oz. $2.00 each
Buy 4 Air Wick Wax Melts $2.69 each
Used 2 $0.50/1 Lysol Touch of Foam Antibacterial Hand Wash printable
Used 2 $2/2 Air Wick Wax Melts coupon from the 9/7 SS
Paid $29.16
Received 700 gas reward points or $17.5o on a 25 gallon fill up
Final price $11.66!
Aunt Jemima Waffles and Pancakes are included in the Buy $20, Save $10 Instantly promo. I received the $1/1 Aunt Jemima coupon in my area which makes this deal a total FREEBIE. If you received the $1/2 Aunt Jemima coupon then this deal is still really good at only $0.50 per box.
Buy 10 Aunt Jemima French Toast or Pancakes $2.00 each
Used 10 $1/1 Aunt Jemima coupon from the 9/7 SS
– Save $10 Instantly
Final price FREE!
See all this week's Giant deals here.