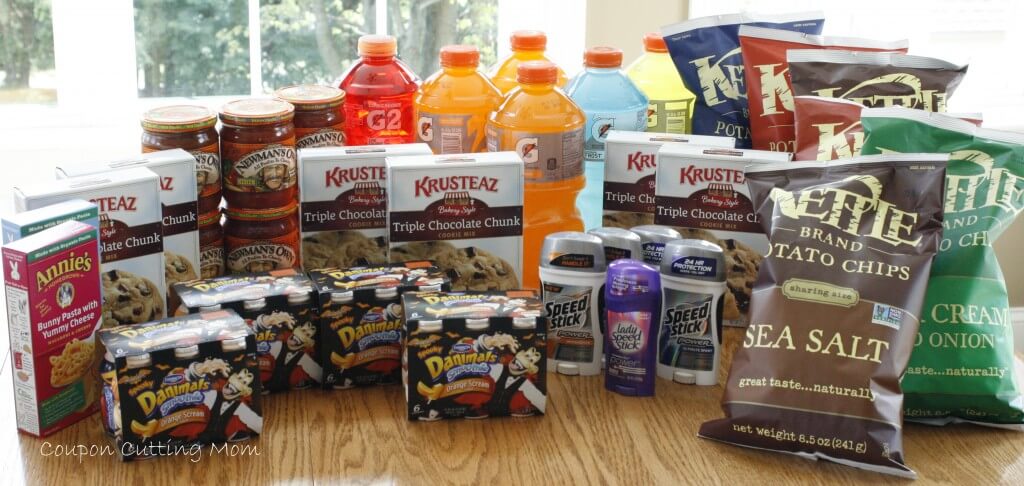 Giant is the place to be shopping this week. It is so exciting to once again see Gas Deal categories that have moneymakers and freebie items included. The items in the above picture are from my Giant shopping trip. These items have a shelf price of $86.88 and after sales and coupons I paid only $65.00! These items also earned me   which equals   of free fuel.
Here is a breakdown of the items I purchased on my Giant shopping trip: (prices good through 9/20)
Bought 4 Dannon Danimals Smoothie Snacks, 6 pk. $2.50 each
Bought 2 Annie's Mac and Cheese $1.50 each
Bought 6 Krusteaz Cookie Mixes $2.00 each
Bought 6 Newman's Own Salsa $2.00 each
Bought 6 Gatorade Sports Drinks $2.00 each
Bought 6 Kettle Brand Potato Chips $2.50 each
Bought 5 SpeedStick Deodorant $2.00 each
= $74.00
Used 4 $1/1 Dannon Danimal coupons from the 8/24 SS
Used 3 $1/2 Nature's Own coupon from the 9/14 RP
Used 2 $1/2 SpeedStick coupon from the 8/24 SS
Paid $65.00
Received 2800 gas points which is $70 worth of fuel on 25 gallon fill-up
Received 130 gas points ($3.25 on a 25 gallon fill up) from the 2x's the points coupon found in flyer
Final price FREE + $8.25 moneymaker!
If you are not familiar with the Gas Reward Points at Giant, then hopefully this post will inspire you to take advantage of these great buys. I love that I am able to buy groceries items for my family and Giant then gives me points to go fill up the car for FREE. I don't know about you but I love not having to pay for fuel at the pump.
See all this week's Giant deals here.