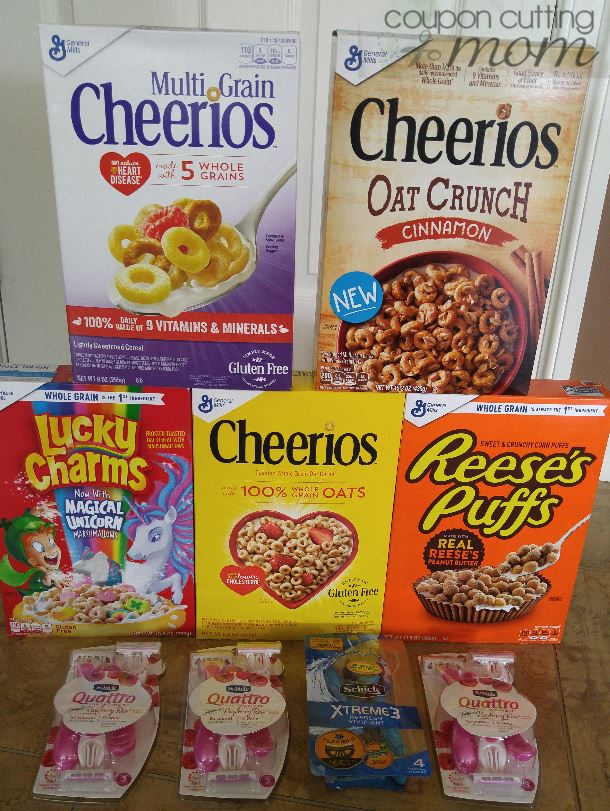 Giant Shopping Trip: $2.55 Moneymaker on $46 Worth of Cereal and Razors
The moneymaking cereal deal is just too good at Giant, and I can't stay away. Since the General Mills printable cereal coupons all reset this morning, it was a no-brainer to me that I needed to head out and some more cereal. And with the printable Schick coupon, I was able to score these razor packs for only $0.09 each! The items pictured above have a shelf price of $46.41. After sales, coupons, instant savings, a General Mills catalina and a SavingStar rebate these groceries were not only FREE but were a moneymaker of $2.19!
Remember the General Mills $4 Catalina will print when you buy five boxes. If you are planning to purchase more than five boxes be sure to separate your items in transactions of five, so you receive the Catalina each time. This Catalina can then be used on any other Giant purchases in a future transaction.
Here is a break down of the items in my Giant shopping trip: (prices good through 8/2)
General Mills Cereal, 8.6 – 16 oz – $1.49/ea wyb 5
Use $0.50/1 General Mills Lucky Charms, Chocolate Lucky Charms, OR Lucky Charms Frosted Flakes Boxed Cereal
Or use $0.50/1 General Mills Honey Nut Cheerios OR Honey Nut Cheerios Medley Crunch Boxed Cereal
Or use $0.50 when you buy ONE BOX Reese's Puffs cereal
Or use $0.50/1 General Mills Multi Grain Cheerios Boxed Cereal
Or use $0.50/1 General Mills Original Cheerios Boxed Cereal
Or use $0.75 when you buy ONE BOX Cheerio Oat Crunch cereal
Or use $0.50/1 General Mills Cheerios Oat Crunch Boxed Cereal – 7-22-18 SS (exp 09/01/18)
Pay $2.45
Receive $4.00 General Mills Catalina
Recieve $1/2 SavingStar General Mills rebate offer
Final price FREE + $2.55 moneymaker!
Buy 3 Schick Quattro Razors – $5.79 each
Buy 1 Schick Xtreme Razor – $4.99 each
– $6.00 Instantly when you spend $20 or more on select Schick
Use 4 $4/1 Schick printable coupon
Pay $0.36 or $0.09 per pack!
See all this week's Giant deals HERE!