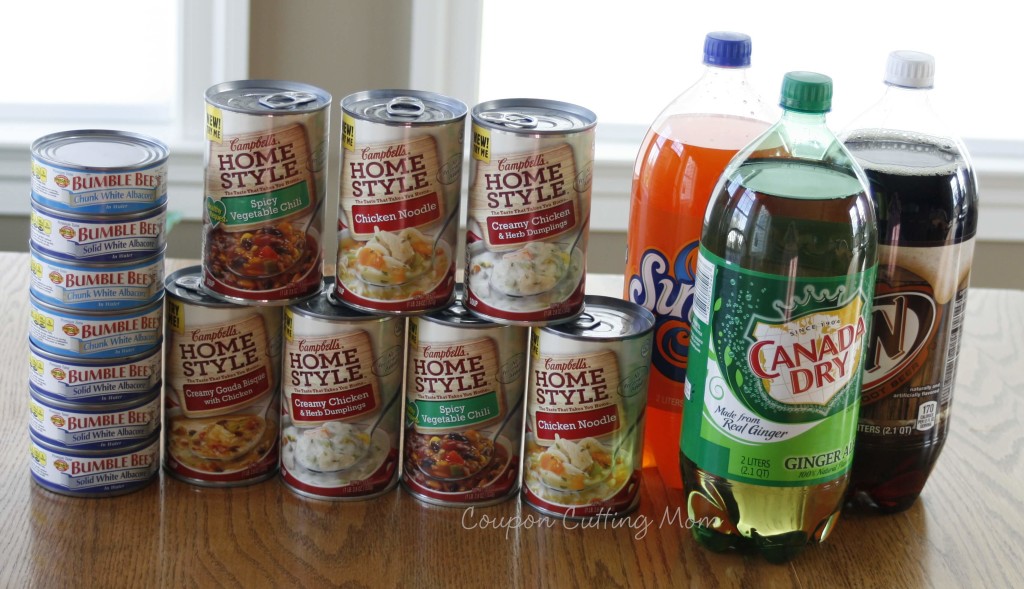 These items have a shelf price of $33.53 at Giant but on my shopping trip I was able to score them for a total of $3.51. The Campbell's soup is a moneymaker of $2.25 and at the register  I was surprised to also receive a $1 catalina from purchasing the soup. I won't complain about making $3.25 just from purchasing 7 cans of soup.
Here is how you can score the same Giant deals: (through 11/30)
7- Up 2 liter $1.00
Includes: Select varieties
Use the $1/3 7UP, A&W, Canada Dry, Sun Drop, Or Sunkist Soda coupon from the 11/17 SS
Pay $0.67 each!
Buy 7 Campbell's Homestyle Soup, 14 – 19 oz.  $1.25
Includes: Select varieties
Use 7 $1/1 Campbell's coupon from the 10/13 SS
-$4 Instantly
Pay FREE + $2.25 moneymaker! Make sure you have other items in your transaction to use the overage.
Buy 7 Bumble Bee Solid White Tuna 5 oz. $1.25
-$4 Instantly
Pay $4.75 or only $0.68 each!
See all the deals available this week at Giant.