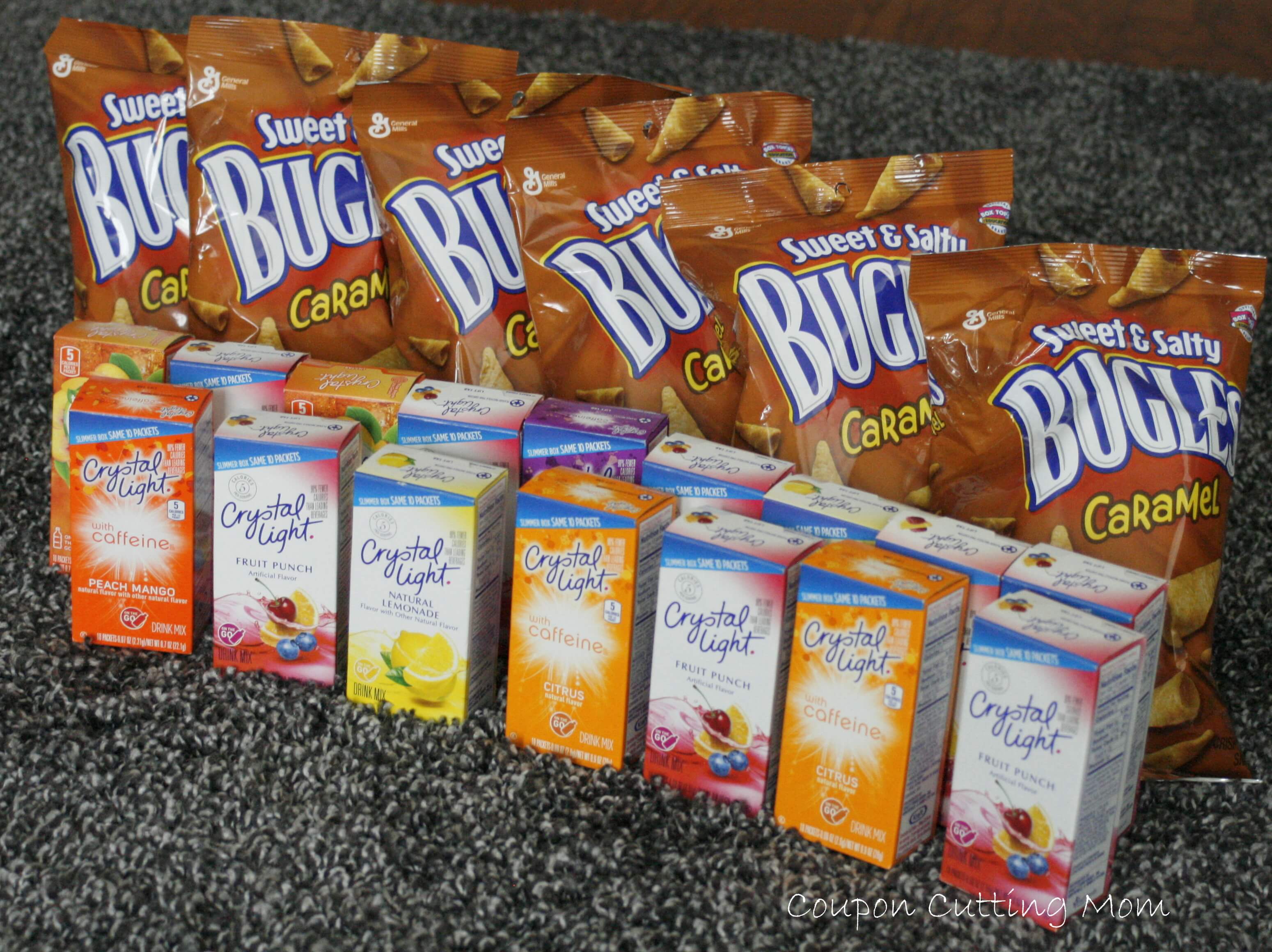 I'm  so excited about this week's
Giant deals
. One of the reasons for my excitement is because that I love Caramel Bugles and they are included in the Gas Rewards. I will sometimes splurge on these bugles even when they are not on sale because I love them so much, but knowing that I can score them for way below the regular shelf price is reason to make me happy.
These items have a shelf price of $58.38 at Giant, but today on my shopping trip I paid $34 and received $6 in Catalinas $27.50 in Gas Rewards. This means that $58 worth of groceries cost me ONLY $0.50! 
I love that there is a Crystal Light Catalina printing as this makes the Crystal Light included in the Gas Rewards a moneymaker. When you buy 3 Crystal Light you will get a $1 Catalina or buy 4 and get a $2 Catalina or buy 5 or more and get a $3 Catalina.
Here is the breakdown of my shopping trip:
Bought 6 General Mills Chex Mix or Bugles, 7.5-8.75oz: $2.00 each
Use the 3 $0.50/2 Chex Mix, Muddy Buddies, Bugles Corn Sacks,(SS 01/25/15 or the 1/4 SS)
Or use the $0.60/2 General Mills Chex Mix Regular, Popped, Muddy Buddies or Xtreme or Bugles Corn Snacks, Gardetto's Snack Mix or Green Giant Veggie Snacks printable
Pay $10.00
Receive $7.50 in gas rewards
Final price $0.42 each!
Bought 8 Crystal Light Drink Mix, or On The Go Sticks, 7-10ct: $2.00 each
Use 4 $1/2 Crystal Light Drink Mix (SS 01/04/15)
Pay $12.00
Receive $10.00 in gas rewards
Receive $3 Catalina
Final price FREE + $1 moneymaker!
I did this deal two times, but be sure to split it into two separate transactions as only one Catalina will print per transaction.
Be sure to check out all this week's Giant deals here before planning your Giant shopping trip.