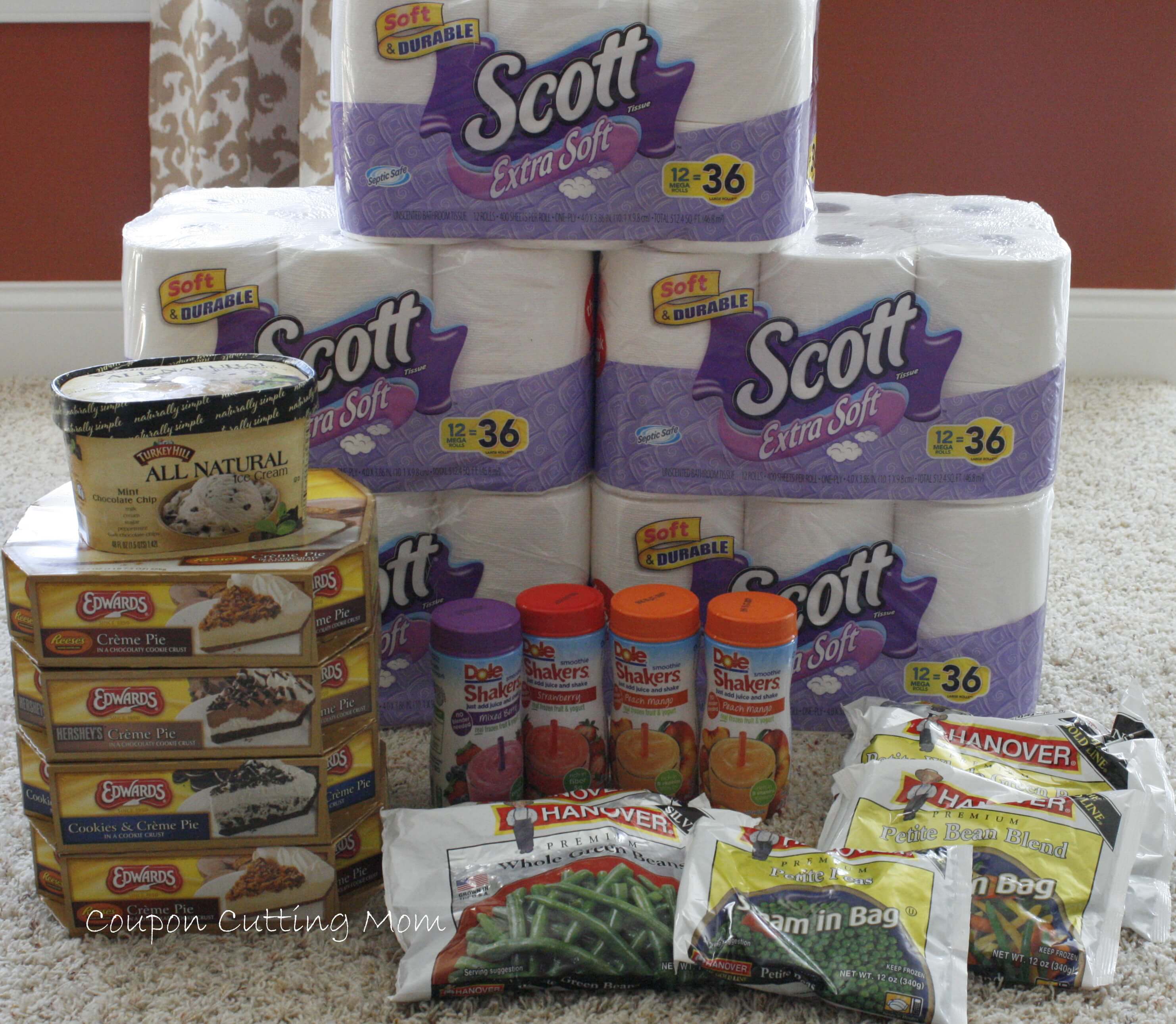 84% Savings on Scott Bath Tissue, Edwards Creme Pies, Frozen Veggies and More 
The items pictured above are from my shopping trip at Giant. These items have a shelf price of $103.40 but after sales, coupons and a Catalina I paid only $46.41. I also earned 1200 gas points which equal $30 off my next fuel up. The way I figure, this means I got $103 worth of groceries for ONLY $16.41 and $14.97 of this amount was the bath tissue. That means I paid only $1.44 for everything else pictured and that includes some splurge items like the Edwards pies. These pies are so good though how could I say no when I could get them for next to nothing.
If you don't shop the Giant Gas Deals than let me suggest that you seriously consider checking them out. Shopping these deals have saved my family and I so much money on groceries. I figure I'm going to be paying for fuel at the pump so why not get groceries and fuel all for the price of one? As is the case again this week there are deals that are moneymakers and this is when it is really fun to shop the deals and earn more in fuel points than you even spend out of pocket.
Here is a breakdown of my Giant shopping trip: (prices good through 3/14)
See the Scott/Cottonelle bath tissue deal here. It is a stock up price on bath tissue that you do not want to miss. After the Catalina, I paid a total of $14.95 for all 5 packs.
Bought 5 Hanover Frozen Vegetables, 12 – 16oz: $1.67 each
Paid $8.35
Received $10.00 in gas rewards
Final price FREE + $1.65 moneymaker!
Bought 4 Dole Smoothie Shaker, 3.74-4oz: $2.00 each
Bought 1 Hanover Frozen Vegetables, 12 – 16oz: $1.67 
Used 4 $0.50/1 Dole Smoothie Shakers Printable (limit 4 coupons per transaction)
Paid $7.17
Received $10.00 in gas rewards
Final price FREE + $2.83 moneymaker!
I'm planning to do this same transaction again later this week and I will then have spent enough for this SavingStar offer – $4/$12 Dole Frozen Fruit, Smoothie Shakers or Dippers (SavingStar Deposit).
Bought 4 Edward's Cream Pie, 22.4-38.33oz: $4.99 each
Bought 1 Turkey Hill Naturals Ice Cream $3.79
Used 4 
$1/1 Edwards Pie printable
Used FREE Turkey Hill Natural ice cream coupon that I had received from Turkey Hill
Paid $15.96
Receive $10.00 in gas rewards
Final price $1.19 each!