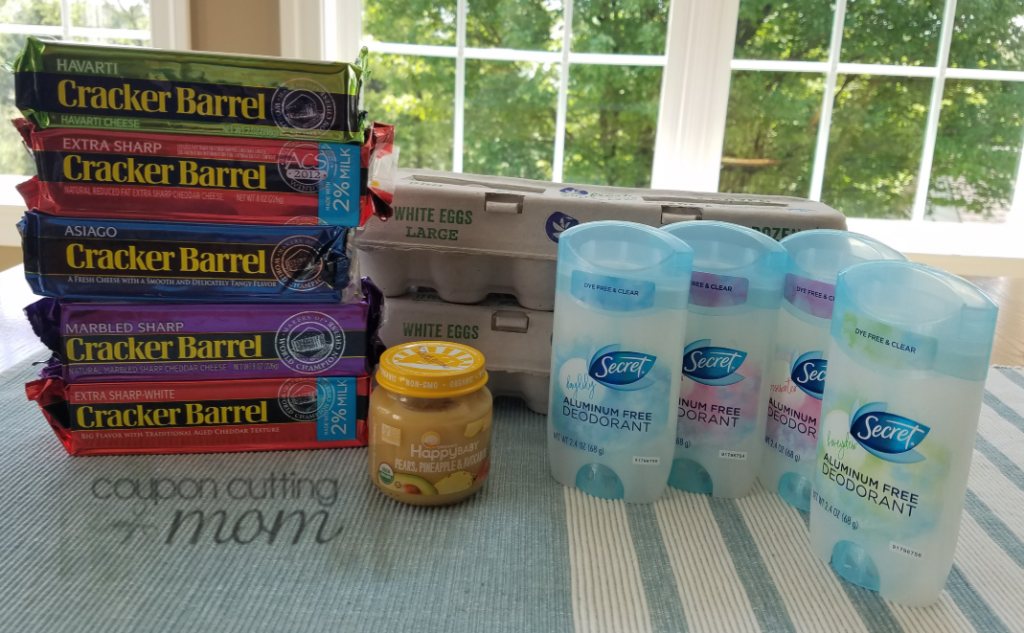 Giant Shopping Trip: 75% Savings On Secret Deodorant, Cracker Barrel Cheese and More
My Giant shopping trip this week was different from the normal in that it didn't include any gas reward deals, but that doesn't mean it didn't include some really great buys. The items pictured above have a shelf price of $43.68. After sales and coupons, I paid $22.50. I then earned $11.75 from Ibotta, which brings my total to just $10.75 for these groceries, which means this shopping trip yielded a 75% savings off the regular shelf price!
Giant deals: (prices good through 5/30)
Buy 5 Cracker Barrel Chunk Cheese, 8 ounce – $2.50 each
Save $5.00 instantly when you buy 5
Pay $7.50
Receive 5 $0.75 Ibotta Cracker Barrel offer (limit 5)
Final price $3.75 or $0.75 each!
Buy 4 Secret Deodorant, 2.4 ounce – 2/$10.00
Save $6.00 instantly when you buy 4
Pay $14.00
Receive 4 $2.00 Secret Ibotta offer (limit 5)
Final price $6.00 or $1.50 each!
Buy 2 Giant Grade A Large Eggs, 1 dozen – $0.50 each with in-app coupon
Buy 1 Happy Baby Baby Food, 4 ounce – $1.29
Pay $0.00 with in-app free Happy Baby in-app coupon!
See all this week's Giant deals HERE!