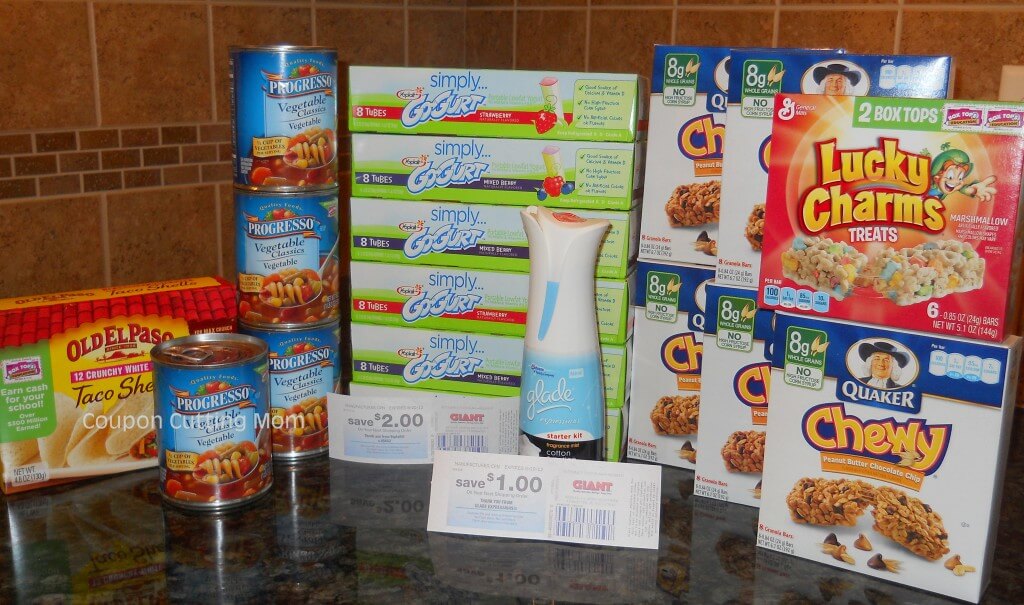 These items are from my Giant shopping trip and have a shelf price of $45.82.  After sales, coupons, Saving Star and catalinas I paid $22.50 and earned $27 in gas points, making this purchase a $4.50 moneymaker!
Follow this list to score the same deals:
Buy 5 Quaker Chewy Granola Bars $2.00 each
Buy 6 Yoplait GoGurt $2.00 each
Buy 4 Progresso Vegetable Classics Soup $1.50 each
Buy 1 General Mills Treat Bars 5.1 – 9.5 oz $2.50
Buy 1 Old El Paso Taco Shells $1.50
Buy 1 Glade Expressions Starter Kit $3.00
Use 2 $1/2 Quaker Products coupon from the 7/22 Pepsi Insert
Use 3 $1/2 Yoplait GoGurt coupon from the 7/8 SS
Use $1/4 Progresso coupon from the 7/15 SS
Use the $0.50/1 Cinnamon Toast Crunch Treats, Cocoa Puffs Treats, Lucky Charms Treats, Golden Grahams Treat, Chex Mix Treats or Milk 'N Cereal Bars printable
Use the $3/1 Glade Expression printable coupon
Pay $26.00
Receive $0.50/1 GM Cereal Bar Treats (SavingStar.com)
Receive $2.00 Yoplait catalina
Receive $1.00 Glade catalina
Receive 900 gas points, on a 30 gallon fill up $27.00
Final price $4.50 moneymaker!
Head over here to see all this week Giant deals.