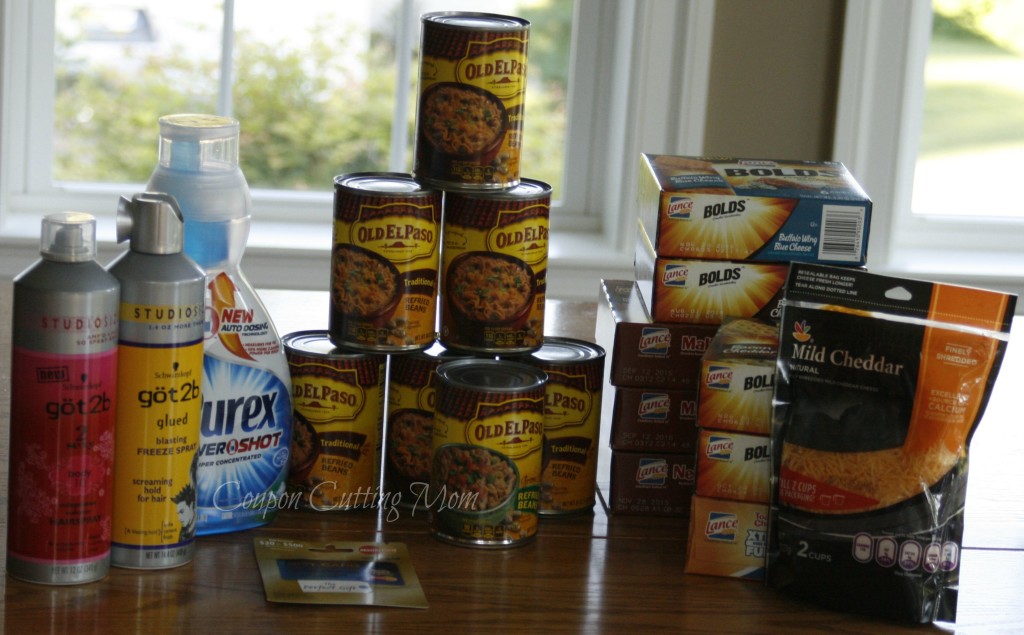 Giant Shopping Trip: $15 Moneymaker on Lance Crackers, Old El Paso and Other Items
The items pictured are from my Giant shopping trip and have a shelf price of $59.70. You will see there is a MasterCard in the picture, and I didn't count the $500 I spent on that as I still have that money for future spending. I only counted the $5.95 card activation fee into my total number in this post. After sales and coupons, I paid $24.55 for these twenty items. I then earned back from $5 from SavingStar and Ibotta and 1400 in Giant gas reward points. These points equal $35 worth of fuel on my next fill up. The way I figure, this means this shopping trip resulted in a moneymaker of $15.45!
Here is a breakdown of my Giant purchases: (prices good through 8/8)
Buy 8 Lance Sandwich Cookies or Crackers, 8.25-13.2oz: $2.50 each
Use 4 $1/2 Lance Cracker Sandwiches printable
Or use $1/2 Lance Carton, exp. 9/13/15 (SS 07/26/15 #2)
Pay $16.00
Receive $10.00 in gas rewards (400 gas reward points)
Final price $0.75 each!
Purex Liquid Laundry Detergent, 43.5-50oz, Powershot, 30oz, or UltraPacks, 18ct: $2.49
Use the $1/1 Purex Liquid, Ultrapacks or Powershot Detergents, exp. 8/9/15 (RP 08/02/15 #2) [30-oz./18-ct.+]
Pay $1.49
Receive $1/1 Purex Powershot (Ibotta Deposit)
Recieve $1/1 Purex Powershot (SavingStar offer)
Final price FREE + $0.51 moneymaker!
Buy 7 Old El Paso Refried Beans, 16oz: $1.00 each
Use 7 $0.50/1 Old El Paso Refried Beans Printable
Pay $0.00
Receive FREE Giant Shredded Cheese when you buy $7 of Old El Paso items
Receive $1/3 Old El Paso Refried Beans (SavingStar Deposit)
Final price FREE + $1.00 moneymaker!
Schwarzkopf got2b Hair Products, $3.50 
Buy 2
Use the $5/2 Schwarzkopf Hair Care coupon from the 8/2 RP
Pay $2.00
Receive $2/1 Got2b (SavingStar deposit)
Final price FREE!
Buy 1 $500 Mastercard gift card (use the gift card anywhere!)
-Use No Coupons!
Pay $505.95 ($5.95 activation fee)
Receive 1000 gas reward points or $25 on a 25 gallon fill up
Final price $19.05 moneymaker!