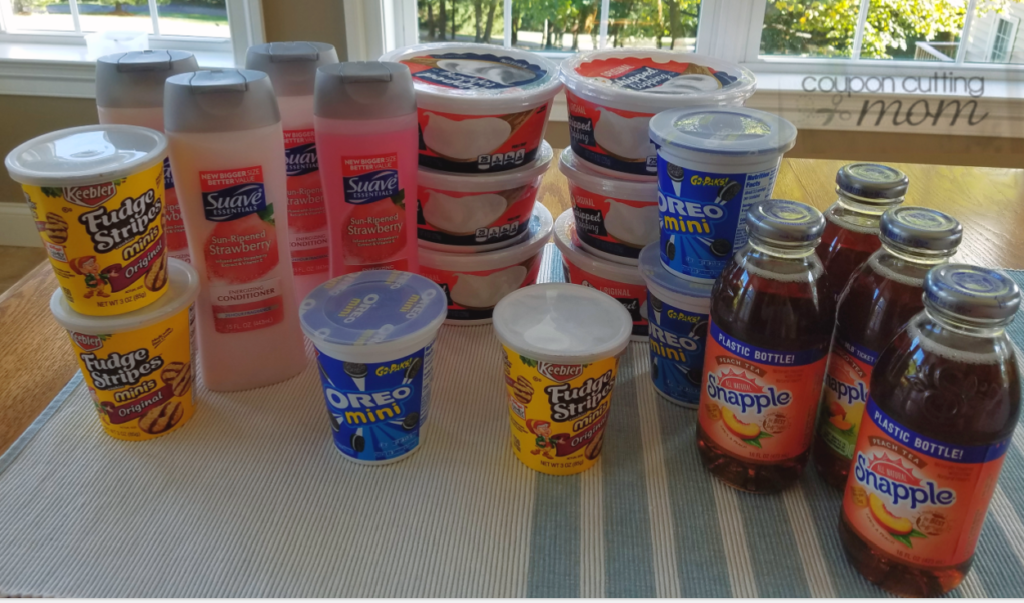 Giant Shopping Trip: $28 Worth of Suave, Keebler, Snapple and More ONLY $6.65
At first, when I looked at this week's Giant ad, I wasn't super excited about the gas deals, but then when I looked a little closer, I realized there were actually some great deals on items I use, such as Suave, whipped topping, snacks and more. The items pictured have a shelf price of $28.60, but after sales, I paid $20.00. Please note, I did buy a few other non-gas point items to bring my total to $25 to receive the gas reward points. I got 750 Fetch points ($0.75) for purchasing Suave and $0.10 from Ibotta for buying any item. I then also received 500 gas reward points or $12.50 in fuel on my next 25-gallon fill up. The way I figure this means I paid $6.65 or just $0.33 for each of the items I bought.
Giant shopping trip purchases: (prices good through 10/17)
Buy 6 Giant Whipped Topping – $1.00 each
Buy 4 Suave Essentials Hair Care – $1.00 each
Buy  4 Snapple – $1.00 each
Buy 6 Keebler/Oreo Snack Cups – $1.00 each
Pay $20.00
Receive $12.50 in gas rewards on 25-gallon fill up
Receive $0.75 in Fetch points from Suave purchase
Receive $0.10 in Ibotta points for purchasing any item
Final price $0.33 each!
See all this week's Giant deals HERE.