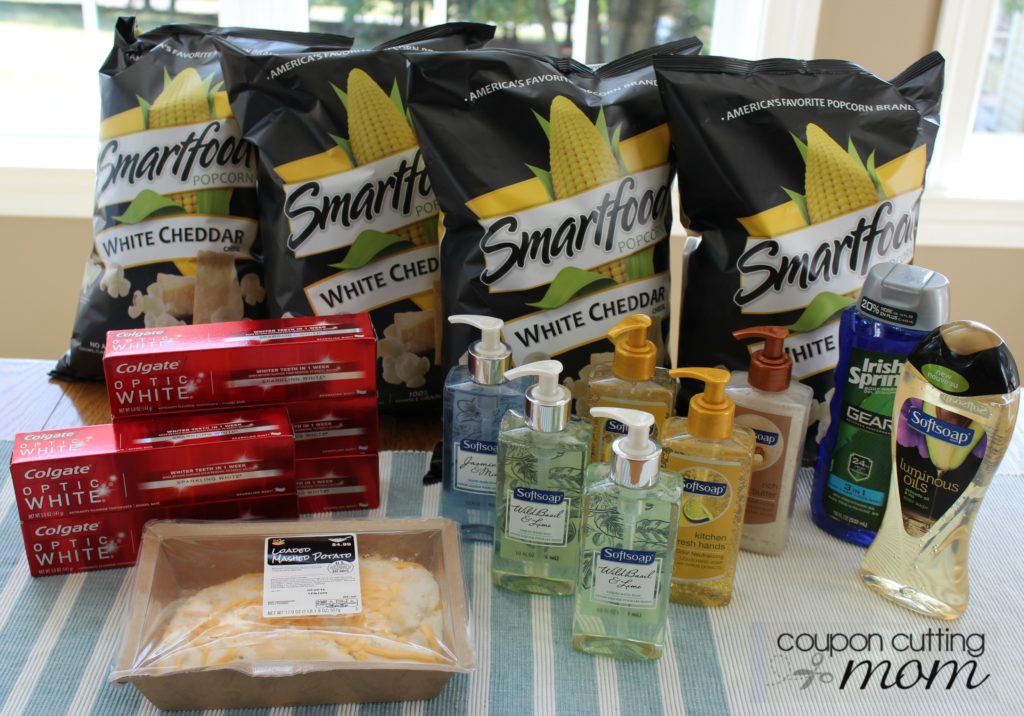 Giant Food Shopping Trip $70 Worth of Smartfood, Colgate and More FREE + $1 Moneymaker
Are you taking advantage of all the great deals this week at Giant Food Store? I scored some great buys in the Gas Reward categories this week.
It seemed like awhile since we had things like body wash and toothpaste in the Gas Reward categories. I took advantage of those deals plus the moneymaker on SoftSoap.
My kids had the Smartfood Popcorn one time at a friends house and ever since then they have been asking me to buy them some. I was excited to see that this popcorn was in the gas category this week, and my kids are excited to have this popcorn for packing in their lunches now.
The items pictured above have a shelf price of $69.32, but after sales and coupons, I paid $36.50, and this purchase then earned me $5 from SavingStar and $32.50 in Gas Reward Points.
Here is a list of what I purchased. Be sure to share your favorite deals this week as well.
Buy 1 Softsoap Body Wash, 15 – 18 oz – $3.50 each
Buy 1 Irish Spring Body Wash, 15 – 18 oz – $3.50 each
Buy 4 Smartfood Popcorn, 5.5 – 10.5 oz – $3.00 each
Use $1/1 Irish Spring Body Wash Printable
Use $0.75/1 Softsoap Brand Body Wash Printable
Pay $17.00
Receive $10.00 in gas rewards on 25-gallon fill up
Receive $5.00 when you spend $25.00 on any Frito-Lay products (I had purchased a few items previously but hit the $25 with the Smartfood purchase.)
Final price $2.00 or $0.33 each!
Buy 6 Soft Soap Hand Soaps, 10 oz – $2.00 each
Use 4 $0.50/1 Softsoap hand soap printable coupon (no more than 4 identical coupons per transaction)
Use 1 $1/2 Softsoap hand soap coupon from the 9/18 SS
Pay $7.00
Receive $10.00 in gas reward points
Final price FREE + $3.00 moneymaker!
Buy 5 Colgate Optic White, 5 – 5.5 oz, Enamel Health, 5.5 oz, or Total, 7.8 oz – $3.50
Use 3 $1/1 Colgate Total, Colgate Optic White, Colgate Enamel Health or Colgate Sensitive Toothpaste Printable [3-oz.+]
Use 2 $2/1 Colgate Optic White High Impact White, Total Daily Repair, Enamel Health or Sensitive Smart White Toothpaste, exp. 9/24/16 (SS 09/11/16) [3-oz.]
Pay $12.50
Receive $12.50 in gas reward points
Final price FREE!
Buffalo Mac & Cheese, 3 Cheese Mac & Cheese OR Garlic Mashed Potatoes $4.99
Use the Giant e-coupon for one FREE any of the items listed above
Pay $0.00!
Be sure to check out all of this week's Giant deals HERE before planning your shopping list.