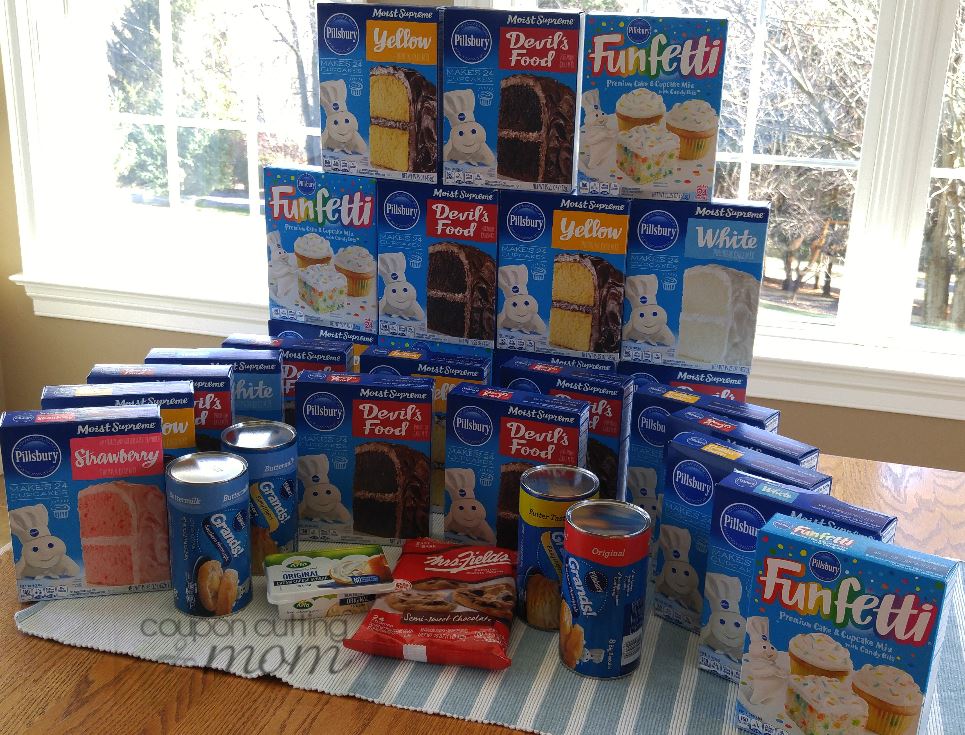 Giant Shopping Trip: $48 Worth of Pillsbury Cake Mix and More FREE + $19 Moneymaker
This week is the week that everyone should be shopping at Giant! Thanks to the Pillsbury cake mixes that are part of the Gas Reward category all shoppers can end up with a very nice sized moneymaker all without the use of any coupons! The items pictured above have a shelf price of $48.89. After sales, coupons and SavingStar offer, I paid $30.93. I then earned 2000 Gas Reward Points which equal $50.00 off my next 25-gallon fuel fill up. The way I figure this means that the items in this shopping trip were FREE + a $19.07 moneymaker!
Do you need recipe ideas to use up your cake mixes? Try these Chocolate Whoopie Pies or this Pineapple Upside Down Cake.
Here is a breakdown of my Giant purchases: (prices good through 11/23)
Buy 5 Pillsbury Cake Mix, 15.25 oz – $1.25 each
Pay $6.25
Receive $10.00 in gas rewards on 25-gallon fill up
Final price FREE + $3.75 moneymaker! (I did this deal five times which makes for a moneymaker of $18.75!)
Arla Cream Cheese, 7 oz – $2.37
Pay $2.37
Submit for FREE Arla SavingStar offer
Final price FREE!
Select Pillsbury Items Buy 4, Save $4 Instantly
Buy 4 Pillsbury Grands!, $1.67 each
Use 2 $0.50/2 Pillsbury printable coupons
– $4.00 Instant Savings
Pay $0.68
Receive $1.00/2 Pillsbury SavingStar offer
Final price FREE + $0.32 moneymaker!
Mrs. Field's Refrigerated Cookie Dough – $3.49
Use FREE Mrs. Field's Giant e-coupon
Pay $0.00!