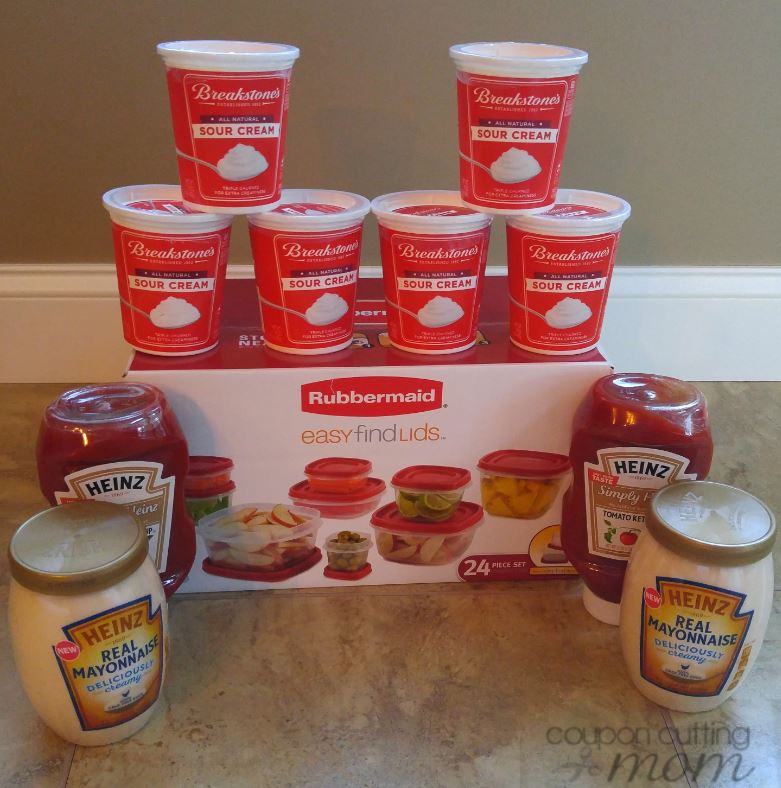 Giant Shopping Trip: $40 Worth of Breakstone's Sour Cream, Rubbermaid and More Only $4.50
When I saw that Breakstone's sour cream was going to be only $0.17 each this week at Giant, I knew this was a deal I didn't want to miss. While shopping I also found numerous summer and back to school items for 75% off the regular price. There were nice lunch boxes for just $2.50, marshmallow roasting sticks only $0.25, and my favorite find the Rubbermaid 24 piece set pictured above for only $2.50. We currently have these exact Rubbermaid containers, and they work so well in the kid's packed school lunches and more! Have you found clearance items at your Giant?
The items pictured above have a shelf price of $40.69. After sales, coupons, instant savings and Ibotta offers, I paid only $4.50!
Rubbermaid Easy Find Lids 24 piece set – $2.50 (75% off $9.99 price)
Buy 2 Heinz Real Mayonnaise – $3.50 each
Buy 2 Heinz Ketchup – $2.99 each
Buy 1 Breakstone's Sour Cream – $1.67 
Use 2 $2/1 Heinz Mayo Catalina coupon that previously printed at register
-$5.00 Instant Savings
Pay $5.65
Receive $4.50 Ibotta offer for buying one Heinz mayo and one Heinz ketchup
Final price $0.23 each!
Buy 5 Breakstone's Sour Cream, 16 oz – $1.67 each
– $5.00 Instant Savings
Pay $3.35
Receive $0.50 Breakstone's Ibotta offer (up to five times per receipt)
Final price $0.17 each!
See all this week's Giant deals HERE.