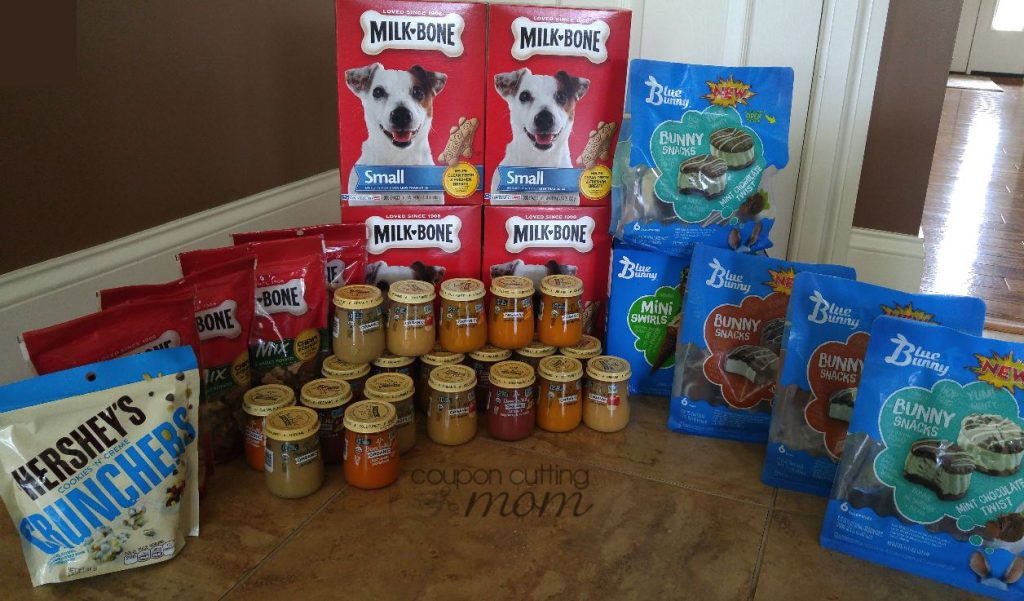 Giant Shopping Trip: $77 Worth of Blue Bunny, Milk-Bone and More FREE + $15.78 Moneymaker
My gas reward points were getting dangerously low, so I was excited for this week's deals which allowed me to add a nice amount of points back into my account. My kids are loving these new Blue Bunny snacks that are part of the deals this week. The items pictured above have a shelf price of $77.36 but after sales, coupons and an Ibotta offer I paid just $59.22. I then earned 3000 gas reward points which equal $75.00 worth of fuel on my next 25-gallon fill up. How is that for a super easy moneymaker of $15.78 just by buying some grocery items?!
Please note for the Milk-Bone that I split it into two separate transactions as I discovered a $2 Milk-Bone coupon spits out of the Catalina machine after scanning the fourth box. If you include all your other purchases plus one set of Milk-Bone in your first transaction you will have hit $25 and then can buy the rest of your Milk-Bones in one set of four per transaction to make the best use of this coupon.
Also, note that the Beech-Nut and Blue Bunny items are gas reward items that are tagged on the shelf but not included in the flier.
Here is how you can score the same Giant deals: (prices good through 5/17)
Buy 4 Milk-Bone Dog Treats, 9 – 24 oz – $2.99 each
Use $2/3 Milk-Bone coupon that prints at Catalina machine at checkout
Pay $9.96
Receive $12.50 in gas rewards on 25-gallon fill up
Final price FREE + $2.54 moneymaker! *I purchased 8 boxes of these dog treats but as noted above I did it in two separate transactions.
Buy 5 Beech-Nut Organic Baby Food Jars, 4.25 oz – $1.39 each
Pay $6.95
Receive $10.00 in gas rewards on 25-gallon fill up
Final price FREE + $3.05 moneymaker! *I purchased four sets of this deal.
Buy 5 Blue Bunny Snacks, 15 – 16.5 oz – $3.50 Each
Use 2 $2/2 Blue Bunny Snacks printable coupon
Pay $13.50
Receive $10.00 in gas rewards on 25-gallon fill up
Submit for $1.00 Ibotta Blue Bunny Rebate
Final price $0.50 each!
Hershey's Crunchers, 6.5 oz – $3.19
Used free Hershey's Cruncher Giant e-coupon found in my Giant coupon account
Paid $0.00!
See all this week's Giant deals here when planning your shopping list.