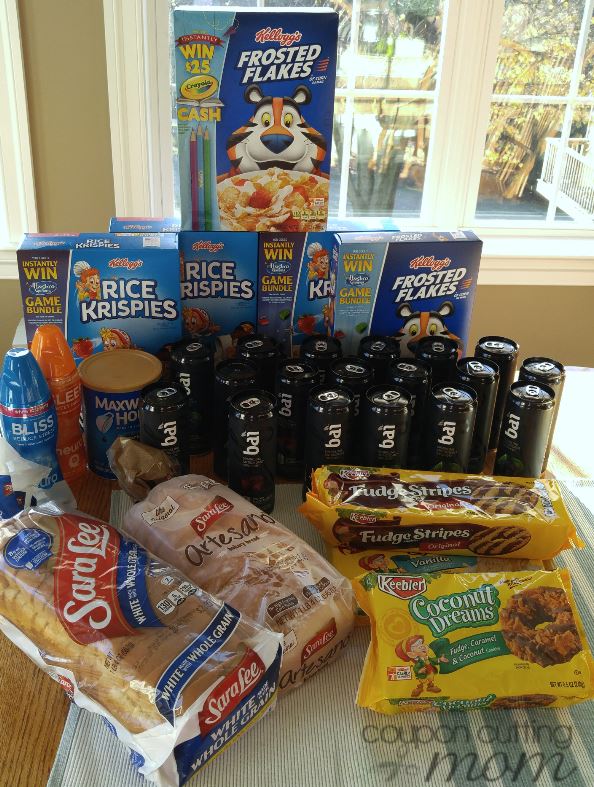 Giant Shopping Trip: $80 Worth of Kellogg's, Sara Lee, Bai and More FREE + Moneymaker
It felt like it had been way too long since I shopped at Giant and it felt terrific to get back to the store and buy some items including Bai drinks (my husband and kids love these) that earned me gas reward points also. The items pictured above have a shelf price of $80.89. After sales, coupons, Catalina and Checkout 51 rebates I paid $49.60. I then earned 2000 Gas Reward Points which equal $50.00 on my next 25-gallon fuel fill up. Taking all these numbers into account, this means my grocery purchase was FREE plus a $0.40 moneymaker!
Here is a breakdown of my purchases at Giant: (prices good through 11/16)
Buy 2 Sara Lee Bread, 20 – 24 oz – $2.49 each
Buy 3 Keebler Fudge Shoppe, Vienna Fingers, or Simply Made Cookies, 8 – 14.2 oz – $2.50 each
Pay $12.48
Receive $10.00 in gas rewards on 25-gallon fill up
Final price $0.50 each!
Buy 5 Bai Bubbles Antioxidant Infusions Drink or Neuro Drink – $1.67 each
Pay $8.35
Receive $10.00 in gas rewards on 25-gallon fill up
Final price FREE + $1.65 moneymaker each! I did this transaction four times for a moneymaker of $6.60!
Maxwell House Coffee, 10.5 – 11.5 ounce – $1.99 with in-ad coupon and $25 purchase
Pay $1.99
Receive $0.75 Maxwell House Checkout 51 rebate
Final price $1.24!
Selected Kellogg's Cereals – $1.99
Buy 5 (I bought 3 Rice Krispies and 2 Frosted Flakes)
Use 3 $0.50/1 Kellogg's Rice Krispies Cereal printable
Use $1/2 Kellogg's Frosted Flakes Cereals printable
Pay $7.96
Recieve $3.00 Checkout 51 rebate
Recieve $2.50 Kellogg's Catalina
Final price $0.49 each!
See all this week's Giant deals HERE before planning your shopping list.