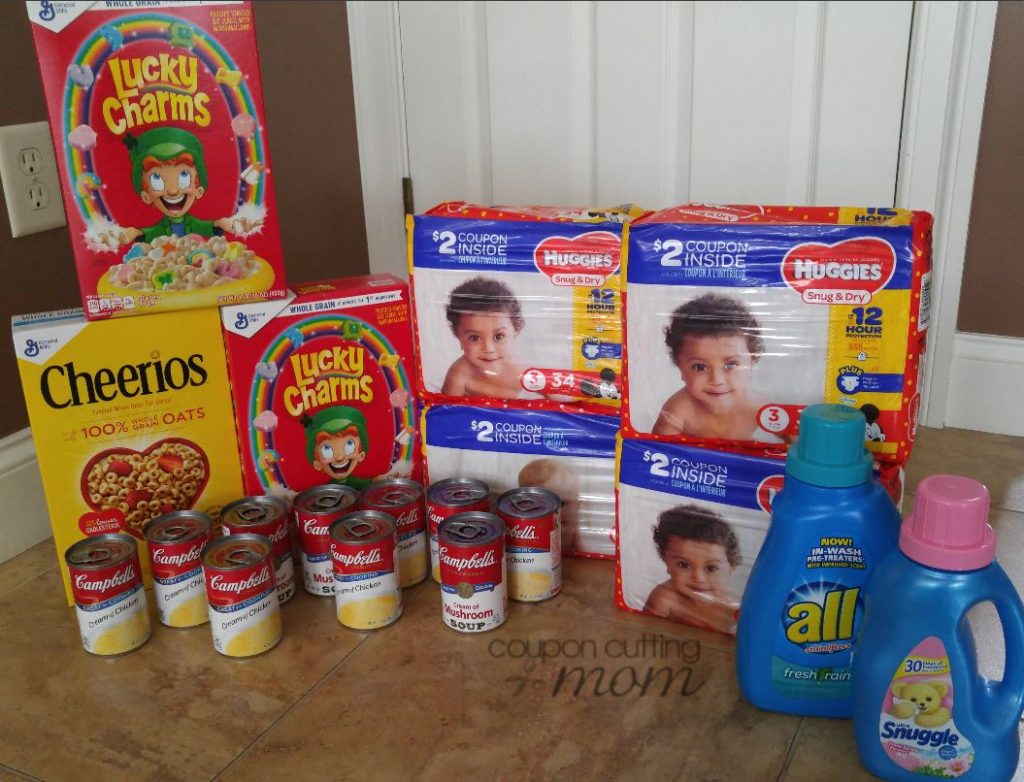 Giant Shopping Trip – $66 Worth of Campbell's, GM Cereal and More ONLY $11.48
These items are from my Giant shopping trip this week. While there aren't any out of this world moneymakers there are some really good buys on everything from cream soup to laundry detergent. The items pictured here have a shelf price $66.61 (missing from the picture is the Dannon Light & Free yogurt). After sales and coupons, I paid $25.23. I then earned a $10.00 Huggies Catalina, $2.50 from SavingStar and $1.25 from Ibotta which brought my final price to just $11.48.
Here is a breakdown of my Giant purchases: (prices good through 1/11)
Buy 3 General Mills Cereal including Cheerios, Cookie Crisp, Trix, Golden Grahams or Lucky Charms, Cinnamon Toast Crunch, Cocoa Puffs and Reese's Puffs, – $1.99/ea wyb 3
Use $0.50/1 Multi Grain Cheerios Cereal printable
Or use $0.50/1 Lucky Charms Cereal printable
Or use $1/2 General Mills Cereal listed: Cheerios, Cinnamon Toast Crunch, Lucky Charms, and more printable
Or use $0.50/1 Reese's Puffs Cereal printable
Or use $0.50/1 Original Cheerios Cereal printable [Yellow box]
Or use $0.50/1 Honey Nut Cheerios or Honey Nut Cheerios Medley Crunch Cereal printable
Or use $0.50/1 Cinnamon Toast Crunch, Apple Cinnamon Toast Crunch, Strawberry Toast Crunch and more printable
Pay $2.97
Receive $1 General Mills SavingStar offer
Final price $0.66 each!
Buy 1 Light & Fit Greek Zero Yogurt, 5.3 ounce – $1.00
Use $0.50/1 Light & Fit Greek Zero Yogurt printable coupon
Pay $0.00
Recieve $1.25 Ibotta Rebate
Final price FREE + $1.25 moneymaker!
Campbell's Cooking Cream Soup, Chicken Noodle, or Tomato Soup, 10.5 – 10.75 oz – $0.49/ea wyb 10
Use 2 $0.80/4 Campbell's Condensed Soups
Pay $0.33 each!
Snuggle Liquid, 32 oz, Sheets, 70 – 80 ct, Boosters, 20 ct, or Scentables, 10.4 oz  or All Laundry Detergent 46.5 – 50 oz, or Mighty Pacs, 18 – 22 ct – 2/$5.00
$3/2 All or Snuggle Products, exp. 1/27/18 (RP 01/07/18) [ETS]
Pay $2.00
Recieve $1.50 SavingStar offer ($0.50 Snuggle and $1 All offer)
Final price $0.25 each!
Buy 4 Huggies Diapers, Pull-Ups or Goodnights Jumbo Packs, 18 – 44 count – $7.99 each
Use 4 $2/1 Huggies printable coupons
Or use $2 off Huggies Wipes wyb Huggies Diapers printable
Or use $2/1 Huggies Goodnites
Or use $2/1 Pull-Ups Training Pants
– $7.00 Instant Savings
Pay $16.96
Receive $10.00 Catalina when you spend $30 on Huggies
Final price $1.74 each!
See all this week's Giant deals HERE while planning your shopping list.