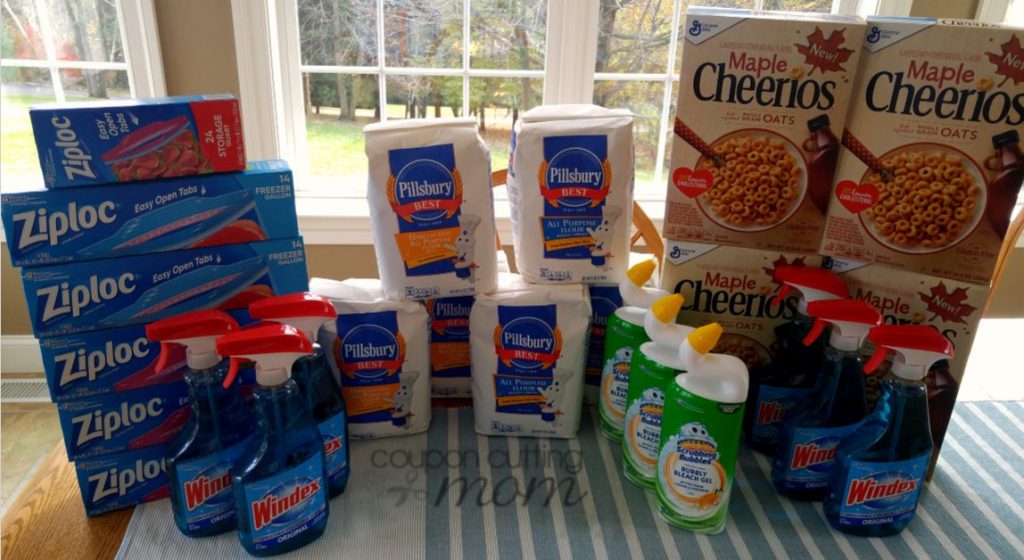 Giant Shopping Trip: $78 Worth of Pillsbury Flour, Ziploc Bags and More $4.49 Moneymaker
This is a fantastic week to score some moneymakers and also add points to your Giant Gas Rewards. The items pictured above including Pillsbury flour, Ziploc, Cheerios and more have a shelf price of $78.23. After sales and coupons, I paid $43.01 This purchase also earned 1900 Gas Reward Points which equal $47.50 on my next 25-gallon fill up. The way I figure this means this shopping trip my groceries were FREE plus a $4.49 moneymaker!
Giant Deals: (prices good through 11/8)
Buy 4 Maple Cheerios, 10.8 ounce – $1.88 each 
Save $6.00 Instantly
Use 4 $0.75/1 Maple Cheerio printable coupon
Pay $0.00 + $2.48 moneymaker! Be sure to have other items in your transaction to absorb this overage!
Buy 6 Pillsbury Flour, 5 pounds – $1.99 each
Pay $11.94
Earn $10.00 in gas reward points on a 25-gallon fill-up
Final price $0.32 each!
This next scenario I'm combining three sets of Buy 5, Earn 500 Choice Reward Points. The coupons I had all said limit two identical per transaction, so hopefully, that explains why I just put everything together to use up the coupons I had some of which are no longer available.
Buy 6 Ziploc Bags, 14 – 19 count – $2.79 each
Buy 3 Scrubbing Bubbles Toilet Bowl Cleaner, 24 0unce – $2.29 each
Buy 6 Windex Glass Cleaner, 23 ounce – $2.99 each 
Use $0.75/1 Windex printable
Or use $0.50/2 Windex printable
Use $0.50/2 Scrubbing Bubbles printable
Use $1/2 Ziploc printable coupon
For my transaction, I had $8.00 worth of coupons so I paid $$33.55. You can buy in sets of five and using the above coupons your transaction may look slightly different as I had some coupons that are no longer available to print.
Earn $37.50 in gas reward points on a 25-gallon fill-up
Final price FREE + $3.95 moneymaker!