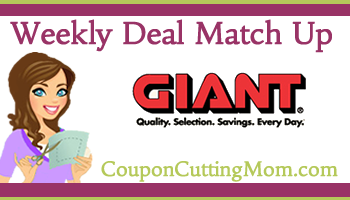 These Giant deals are based on a store that doubles coupons up to $1.00. Most Giants will double one like coupon per transaction. This can vary from store to store, so please become familiar with your local stores policy.
Want your own customizable shopping list? Scroll to the bottom of the post and click on the PrintFriendly button on the far right hand side. Also use the Coupon Database to find additional coupons for items you are planning to purchase.
Head here to see all this weeks Gas Points deals. This is another week for lots of good deals that will get you gas points, so make sure you don't miss them.
Check your flier. My ad has a coupon for Spend $50 and earn an additional $0.30 off a gallon of gas.
Giant Matchup for July 29 – August 4
— Produce —
Dole Classic Salad or Red Shredded Cabbage BOGO
Ripe Watermelon or Cantaloupe Chunks BOGO
Sweet Pint Blueberries BOGO
Orchard Perfect Peaches $1.99/lb.
Super Sweet Corn 6/$2.00
— Meat —–
Hatfield Sliced Bacon 16 oz BOGO
Giant Fresh Boneless Sirloin Steak BOGO
Ball Park Beef Franks BOGO
Use the $1/2 Ball Park coupon from the 7/22 Pepsi Insert
Johnsonville Italian Sausage Dinner Links $3.99
Use the $1/1 Johnsonville Italian Sausage printable
Pay $2.99!
Giant Fresh Drumsticks, Thighs or Whole Chicken 99¢/lb.
Giant Smoked Ham Steak $2.99/lb.
Giant Fresh Assorted Pork Loin Chops or Country Style Pork Ribs $1.99/lb.
— Refrigerated —
Heluva Good Sour Cream $1.67
Use the $0.50/1 Heluva Good! Product printable
Pay $0.67!
Minute Maid Drinks 59 oz $1.50
— Freezer —
Steak-umm Sandwich Steaks 9 – 12 oz BOGO
Mama Lucia Italian Meatballs 9 – 12 oz BOGO
Smucker's Uncrustables $2.50
Use the $1/1 Smucker's Uncrustables Sandwiches printable
Pay $1.50!
— Other Food —–
Freshly Baked Large Kaiser Rolls BOGO
Pepsi 12 Pack or 6 Pack 4/$10.00 Must Buy 4
Use 2 $2/2 Pepsi coupon from the 7/22 Pepsi Insert
Pay $1.50 each!
Gatorade Thirst Quencher $0.88
Acadia Spring Water 35 Pack $3.99
Taster's Choice Instant Coffee Sticks $1.00
Use the $0.75/2 Nescafe Tasters Choice Coffee Variety printable
Pay $0.50 each when you buy 2!
Folgers Ground Coffee 10.3 – 11.3 oz 3/$9.00 Must Buy 3
Use the $1/2 Folgers coupon from the 6/10 RP
Pay $2.67 each!
Nutella Hazelnut Spread $3.49
Use the $1/1 Nutella coupon from the 5/6 RP
Pay $2.49!
Bumble Bee Chunk Light Tuna $1.00
Use the $1/2 Bumble Bee Product (Recyclebank)
Pay $0.50 each!
Ken's Marinade BOGO
— Non Food —–
Bayer Aspirin $4.99
Use the $3/1 Bayer coupon from the 6/24 SS
Pay $1.99!
Suave Shampoo or Conditioner $0.99
Flintstones Vitamins $5.00
Use the $1/1 Flintstones Multivitamin Product printable
Pay $4.00!