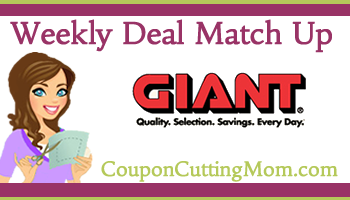 The Giant I shop, doubles coupons up to $1.00 and will only double one like coupon per transaction. This can vary from store to store, so please become familiar with your local stores policy.
Want your own customizable shopping list? Scroll to the bottom of the post and click on the PrintFriendly button on the far right hand side. Also use the Coupon Database to find additional coupons for items you are planning to purchase.
Giant Matchup for February 24 – March 2
:: Produce
Blueberries 1 pint, BOGO
Grape Tomatoes 1 pint, BOGO
Navel Oranges, $1
Premium Russet Potatoes 5lb. bag, $1.49 (limit one with in-ad coupon and $25 purchase)
Red Grapefruit, $1
:: Meat
Giant Frozen Raw Shrimp 31-40 ct, 2lb. bag, $9.98 (limit one with in-ad coupon and $25 purchase)

Giant Top Round London Broil or Roast, BOGO
Salmon Portions, $3.50 (5x gas rewards)
:: Refrigerated
Land O Lakes American Cheese, $5.99/lb. (in the deli case)
$1/1lb. Land O Lakes Cheese (1/20 SS)
= $4.99 for 1lb.
:: Freezer
DiGiorno Pizza or California Pizza Kitchen Pizza, $3.99 (limit one with in-ad coupon and $25 purchase)
Eggo Waffles, $1.67 (5x gas rewards)
:: Other Food
Aviv, Yehuda or Osem Matzo Crackers 5lb., FREE (with in-ad coupon an $50 purchase)
Barilla Pasta, $1
Kellogg's Nutri Grain Bars, $2.50
$1/3 Nutri Grain Bars printable
= $2.17 each wyb 3
Maier's Italian Bread, BOGO
Ocean Spray Craisins 5oz., BOGO
Planters NUTrition Peanut Butter, $2.50
$.75/1 Planters NUTrition Peanut Butter printable
= $1.50
Streit's or Manischewitz Matzos 5lb., FREE (with in-ad coupon and $50 purchase)
Sunshine Cheez-It Crackers, $.99 (limit one with in-ad coupon and $25 purchase)
:: Non-Food
Kleenex Facial Tissues 70-100ct., $1
$1/4 Kleenex (2/10 SS)
= $.75 each wyb 4
Scott Mega Paper Towels or Scott 20 Roll Bath Tissues, $9.99 (limit one with in-ad coupon and $25 purchase)