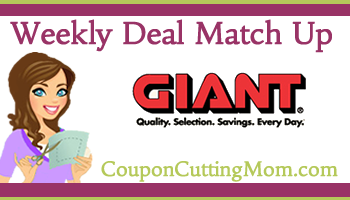 The Giant I shop, doubles coupons up to $1.00 and will only double one like coupon per transaction. This can vary from store to store, so please become familiar with your local stores policy.
Want your own customizable shopping list? Scroll to the bottom of the post and click on the PrintFriendly button on the far right hand side. Also use the Coupon Database to find additional coupons for items you are planning to purchase.
Giant Matchup for December 9 – December 12
:: Produce
Blueberries or Blackberries 4.4-6oz., $3.99, BOGO
= $2 each wyb 2
Grape Tomatoes, pint, BOGO
Kiwi, $.25
Navel Oranges or Grapefruit, $1

Pom Pomegranate, $2.50
$.50/1 Pom Pomegrante (11/11 SS)
= $1.50
:: Meat
Atlantic Salmon Fillet, $6.99/lb.
Giant London Broil, BOGO
:: Refrigerated
Chobani Yogurt, $1
$.30/1 Chobani printable
= $.40
:: Freezer
Cooked Perfect Meatballs 24-32oz., $5.99
$1/1 Cooked Perfect Meatballs (10/7, 12/2 SS)
= $4.99
:: Other Food
Flatout Flatbread $3.79 (2x gas rewards)
$.50/1 Flatout Flatbread printable
= $2.79
Hershey Seasonal Kisses 7.2-11oz., Buy 2 Get 1 Free!
$1/2 Hershey Kisses (11/11 SS)
$1.50/2 Hershey Candies, select (12/9 SS)
Keebler Crackers, select, $2.50
$1/2 Keebler Crackers (11/11 RP)
= $2 each wyb 2
Planters Nut-Trition Peanut Btter 12oz., $2.99
$.75/1 Planters Nut-Trition printable
= $1.99
Progresso Traditional or Rich & Hearty Soup, $1.25
$1/4 Progresso Soup (11/11, 12/9 SS)
= $1 each wyb 4
:: Non-Food
All Laundry Detergent 50oz., $3.99
$1/1 All Laundry Detergent (11/11, 12/2 RP)
= $2.99
Suave Lotion 18oz., $2
$1/2 Suave Lotion (12/9 SS)
= $1.50 each wyb 2