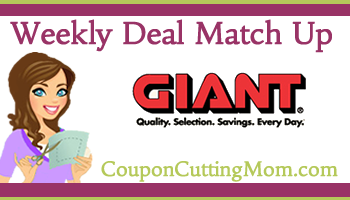 The Giant I shop, doubles coupons up to $1.00 and will only double one like coupon per transaction. This can vary from store to store, so please become familiar with your local stores policy.
Want your own customizable shopping list? Scroll to the bottom of the post and click on the PrintFriendly button on the far right hand side. Also use the Coupon Database to find additional coupons for items you are planning to purchase.
Giant Matchup for December 23 – December 29
:: Produce
Asparagus, $2.99/lb.
Cherry Cocktail or Cherub Tomatoes, $2.49 each
Clementines 5lb. box., $4.99
$.50/1 Clementine (12/2 SS)
= $3.99
Pomegranates, $2.50
$.50/1 Pom Pomegranate (11/11 SS)
= $1.50
:: Meat
Atlantic Salmon Fillet, $6.99/lb.
Giant Turkey, $.99/lb.
Jumbo Snow Crab Clusters, $6.99/lb.
:: Refrigerated
Bailey's Coffee Creamer 16oz., $1.50
$1/1 Bailey's Creamer (11/18 SS)
= $.50

Cracker Barrel Chunk or Snack Bar Cheese 6-8oz., $2.50
$1/2 Cracker Barrel Cheese printable
= $2 each wyb 2
Kraft Fresh Takes, $2.50
$1/1 Kraft Fresh Take printable
= $1.50
Shedd's Spread Country Crock 15oz., $2
$.50/1 Shedd's Spread Country Crock printable
= $1
:: Freezer
Green Giant Valley Fresh Steamers 11-12oz., $1.89
$.75/1 Green Giant Steamers printable
$.50/2 Green Giant Steamers (11/11, 12/9 SS)
= as low as $.89
Pepperidge Farm Garlic Breads, $2
$1/2 Pepperidge Farm Frozen Rolls or Bread (11/11, 12/2 SS)
= $1.50 each wyb 2
Rhode's Dinner Rolls, $2
$1/2 Rhode's Bread or Rolls (11/11, 12/9 RP)
$.40/2 Rhodes Bread printable
= as low as $1.50 each wyb 2
Totino's Pizza Rolls, $1
$.40/2 Totino's Pizza Rolls (10/7 SS)
= $.60 each wyb 2
:: Other Food
Planters Dry Roasted Peanuts 16oz., $3.50
$1/2 Planters Nuts printable
= $3 each wyb 2
Starbucks K-Cup Packs 10ct., $7.49
$1.50/1 Starbucks K-Cup printable
Get a $5 Starbucks Gift Card wyb 3 Starbucks products
= $5.99
Welch's Sparkling Grape Juice 25.4oz., $3
$1/3 Welch's Sparkling Juice printable
= $2.67 each wyb 2
:: Non-Food
Angel Soft Bath Tissue, $5.99
$1/1 Angel Soft printable
$.25/1 Angel Soft (11/11 RP)
= as low as $4.99
Arm &Hammer Dryer Sheets 40ct., $1
$1/2 Arm & Hammer Dryer Sheets printable
= $.50 each wyb 2
Finish Dish Detergent or Tabs, $3.49
$.75/1 Finish Automatic Dishwasher Detergent printable
$.50/1 Finish Powerball or GelPacs printable
= $2.49