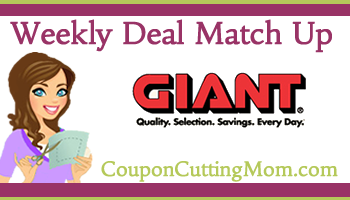 The Giant I shop, doubles coupons up to $1.00 and will only double one like coupon per transaction. This can vary from store to store, so please become familiar with your local stores policy.
Want your own customizable shopping list? Scroll to the bottom of the post and click on the PrintFriendly button on the far right hand side. Also use the Coupon Database to find additional coupons for items you are planning to purchase.
Giant Matchup for December 16 – December 22
*Grab that coupon to earn an extra 300 Gas Reward Points when you spend $50 on the front of this week's circular!*
:: Produce
Asparagus, $2.99/lb.
Blueberries, Blackberries and Raspberries 4.4-6oz., $2.99
Cuties Clementines 5lb., $4.99
$.50/1 Cuties Clementines (12/2 SS)
= $3.99
:: Meat
Giant Turkey, $.99/lb.
Sea Scallops, $13.99/lb.
:: Refrigerated
Coffe Mate Creamer 32 oz, $3.00
0.75/1 Coffee Mate Printable coupon
0.55/1 Coffee Mate Printable coupon
= $2

Coffee Mate Natural Bliss Creamer 16oz., $1.99 (2x gas rewards)
$.50/1 Natural Bliss Facebook printable
= $.99
Wholly Guacamole 12-14oz., $3.99 (2x gas rewards)
$1/1 Wholly product printable or printable or printable
= $2.99
:: Other Food
Blue Diamond Almonds 6oz., $2.50
$.50/1 Blue Diamond Almonds Facebook printable
= $1.50
Domino Sugar 4lb., $2.50
$.75/2 Domino Sugar (11/4 RP)
= $2 each wyb 2
Hershey's Baking Chips, $2.50
$1/2 Hershey's Baking Chips (11/11 SS)
= $2 each wyb 2
:: Non-Food
Blistex Lip Balm, select, $.88
$1/2 Blistex (12/2 SS)
= $.38 each wyb 2
Cascade Complete, select sizes, $6.99
$1/2 Cascade (11/25 PG)
= $6.49 each wyb 2
Ziploc Bags Qt. or Gal., $2
$1/2 Ziploc Bags (11/11, 12/2 SS)
Save $1 in your SavingStar account wyb 2 Ziplocs
= $1 each wyb 2