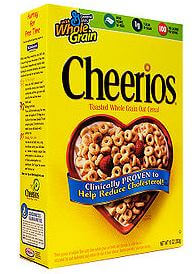 There is a deal on General Mills cereal this week at Giant. With some new printable coupons and some SavingStar coupons that just came out today, this deal got a lot sweeter. Here is a deal scenario for you:
Giant (through 2/2):
Select GM cereal 3/$8.00, and Get $3.00 off a Gallon of Milk
Buy 1 Cinnamon Toast Crunch
Buy 1 Cheerios
Buy 1 Multi Grain Cheerios
Use the $0.50 off ONE BOX Cinnamon Toast Crunch cereal 
Use the $0.50 off ONE BOX Original Cheerios cereal 
Use the $0.85/1 Multi Grain Cheerios Cereal printable
Pay $5.00
Receive $3 off a gallon of milk
Receive $0.50/1 Cinnamon Toast SavingStar credit
Receive $0.50/1 Cheerios SavingStar credit
Final price $0.33 per box of cereal!